De schrijvers van de FD stellen vast dat Shell 72% minder winst maakt, en dat zou een probleem van Shell zijn. We zijn het daar niet mee eens. Winst is sowiezo surplus inkomen, het is geld dat je als bedrijf verdient maar niet nodig hebt. Shell zit dus prima in de slappe was. Aandeelhouders van Shell zouden kunnen vertrekken, maar ook dat maakt geen bal uit. De aandelen zijn immers al door Shell verkocht aan de markt, dus wat er daarna met die dingen gebeurt zal Shell een worst wezen.
Aan de prijs van olie zie je niet hoeveel er wordt aangeboden of hoeveel er nog is. De prijs is namelijk ook afhankelijk van hoeveel geld er in omloop is.
De prijs van olie is niet iets dat een olie bedrijf in de hand heeft. Olie is zo'n universeel noodzakelijk goed dat de prijs ervan voornamelijk door concurenten en de hoeveelheid geld in omloop wordt bepaald. De prijs is de relatie tussen olievat aanbod vs. geld aanbod. Stel er zijn vijf vaten en er is 100 Euro in omloop, dan kost een vat 20 Euro. Stel er zijn twee vaten en er is 40 Euro in omloop, dan kost een vat 20 Euro. De prijs zegt dus niks over het aanbod, en niks over de vraag, alleen iets over de relatie tussen die twee absolute waarden.
Wat werkelijk interessanter is is de output in vaten per dag. Die is steady maar minder dan 2015 in non-OPEC landen zoals je hierboven kunt zien.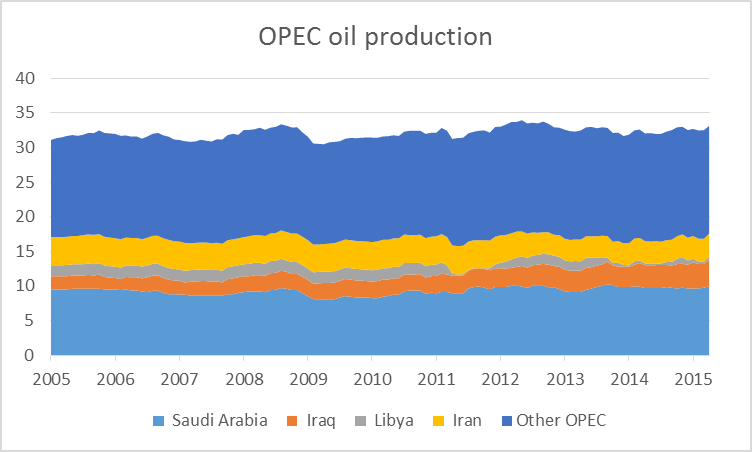 Ook de OPEC productie is redelijk vlak. Dat kan van alles betekenen. Want stel dat je geen landbouw machines hebt, en dus geen brandstof in deze machines kunt gebruiken voor de voedsel productie, dan zal de olie die je gebruikt veel minde welvaart teweeg brengen dan als je die machines wel hebt. De manier waarop de olie bebruikt wordt is dus van belang om te bepalen wat het effect op (oa) de geldhoeveelheid is. Maar banken spelen daarbij een veeel belangrijker rol.
Bovenstaand plaatje plus de groei van duurzame energie en de aanname dat de gebruikte fossiele energie door marktdynamiek steeds efficienter gebruikt wordt (plus de toenemende focus op effientie en andere verbruiks reducerende factoren) creert een beeld van groeiende welvaart. Een groeiende welvaart met meer zonnepanelen zal gepaard gaan met een krimpende economie, omdat de geldstromen voor bv. electriciteit zullen afnemen. Die groei zal (zonder oologen, klimaat rampen e.d.) nog vele decennia doorzetten.

Olie winnen kost steeds meer olie
Alleen een aandeel houder die divident zoekt en die voorstander is van het fossiel/bankaire systeem dat ons nu regeert zal zeuren over de winst van Shell. Shell zelf zal er ook over zeuren, om de illusie hoog te houden dat het er van afhankelijk is. Het zal zelfs doen alsof het in de problemen zit omdat banken die eigenaren van de assets en consessies zijn de magie van de gratis olie niet willen doorbreken. Maar olie komt zomaar uit de grond, en is dus zelfs als je tien vaten olie nodig hebt om een vat te winnen, gratis.
De prijs van olie vertelt ons niks, het vertelt ons niet hoeveel olie er wordt aangeboden, hoeveel er nog is. Wat interessanter is is de EROI ofwel de energy return on investment. De hoeveelheid olie die nodig is om een vat olie uit de grond te halen. Deze wordt steeds lager, dwz er wordt steeds meer olie verspilt bij het winnen van olie, of teer bij het winnen van teerzandolie, of gas bij het winnen van gas. Dit laat goed zien dat zelfs als er honder vaten olie verbrand worden voor er een vat op de markt verschijnt dit voor de oliemaatschappijen houdbaar is.
Als er geen olie meer is stopt alles. Tenzij we nu de beschikbare olie goed benutten voor het olie onafhankelijk maken van essentiele productieketens.
Op gegeven moment is de opbrengst zo laag dat de productie keten zich met de opbrengst niet langer in stand kan houden. Dit is als wanneer het in de boom klimmen om een appel te plukken meer energie kost dan het oplevert. Op dit punt zullen olie maatschappijen stoppen, en zullen banken op zoek moeten naar iets anders. De vraag is of de ons verblind door een betekenisloze prijs en onwetend over de werkelijke reserves naar zo'n rampsituatie moeten laten leiden. Het is niet alleen ongelofelijk roekeloos en gevaarlijk, maar bovendien volstrekt onnodig.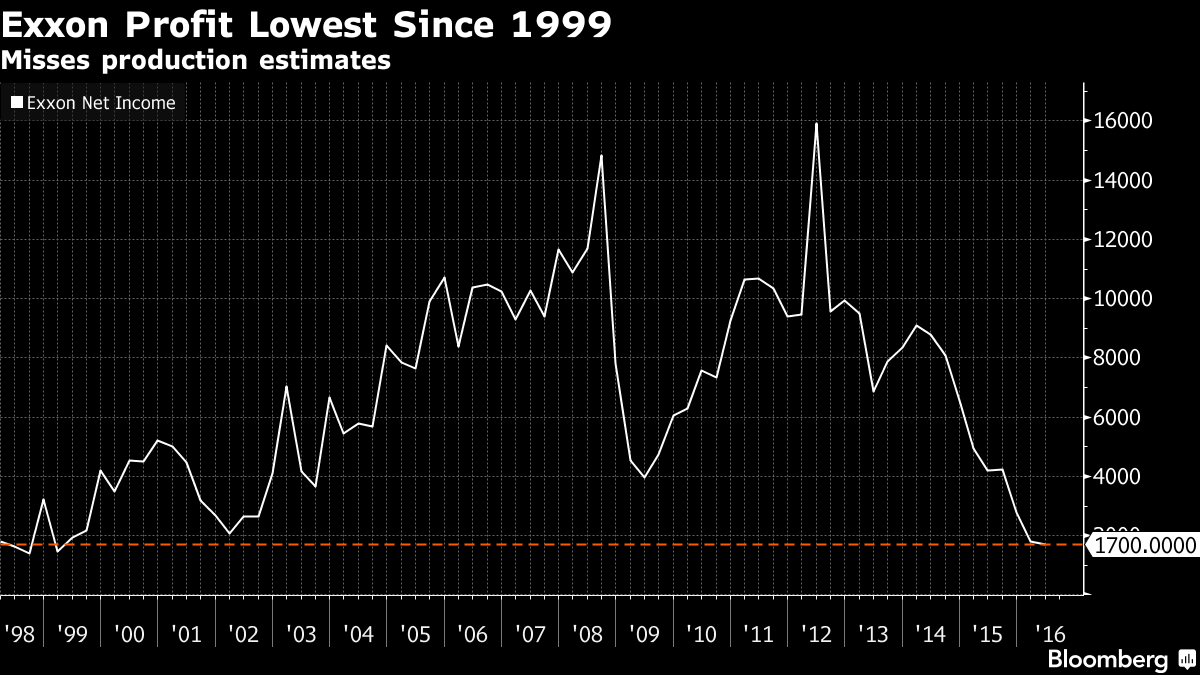 Exxon heeft ook geen enkel probleem.
Liever dan de FD en financiele markten door te laten gaan met kinderspelletjes met onze toekomst, zouden we de bank en fossiele sector tegelijk moeten reguleren, zodat investeringen in de fossiele exist de hoogste prioriteit krijgen, en die in spilzuchtig omzet genereren de laagste. Er is nog tijd, want er is nog olie, maar hoe lang willen we nog gevoelig zijn voor een catastrofale verstoring van de aanvoer? Hoe lang willen we deze hulpbron nog vrij laten verspillen?