Its been suggested that increasing ocean albedo can help keep our planet cool. The question seems to be how. Some suggest to use the foam already created in ships wakes, but that would result in only a tiny increase in ocean foam. Below from a 2010 paper: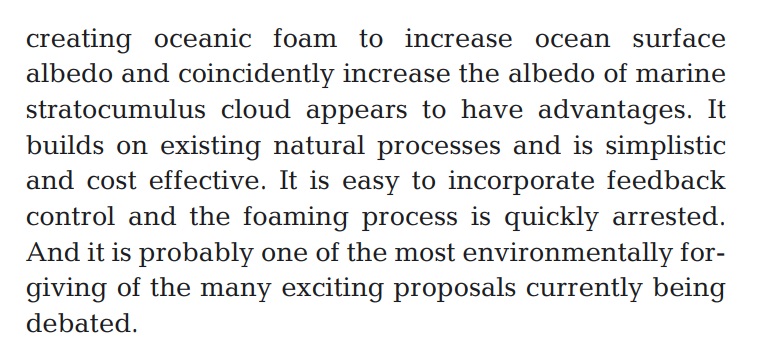 People debating ship wake ocean foam immediately warn for weather effects. But we are moving into global heatwave territory fast. We have few options and ocean albedo increasing is one of them. To say we should not hurry into a solution assumes there would not be solid research. It is also a weak argument because it was never a problem as we expanded the use of fossil fuels. Within the economy its all competition and new solutions are rarely welcome.
One of the strange things I see in many papers is that an intervention is proposed but then it is ended after a while, so ocean foam enhanced, then it stops 50 years later. There is no reason to assume it would stop or to want it to stop. Long term continuity is a challenge. especially at sea.
It seems whatever means we use has to be self sustainig, not need any high tech input and should bring sustenance to whover employs it. This is the extraeconomic method or model, meaning whatever biomass, resources are created they are not shared with the rest of the world. The reason for that is that this would mean consumption which causes new CO2/Methane emissions.
https://opg.optica.org/viewmedia.cfm?r=1&rwjcode=ao&uri=ao-16-8-2257&html=true
https://pubmed.ncbi.nlm.nih.gov/20168905/
Can ocean foam limit global warming?
The total effective sea foam albedo
An interactive ocean surface albedo scheme
On the energy required to maintain an ocean mirror using the reflectance of foam