Bloomberg meldt dat door de sterke wind in Duitsland er nu al 31 uren zijn geweest dat de windparken hun stroom nauwelijks kwijtkonden.
"Rather than an anomaly, the event marked the 31st hour this year when power companies lost money on their
electricity in the intraday market because of a torrent of supply from wind and solar parks.
The phenomenon was unheard of five years ago." (bron)
Dit is niet alleen aan indicatie van veranderende weerpatronen, maar ook van een nieuwe economie waaring energie niet langer een beperkende factor is. Deze situatie is overigens interessant, want de windparken besloten om de electriciteit wel op de markt te brengen, terwijl ze ook de windturbines zouden kunnen stilzetten. Net als we zien met kernenergie in Belgie, kunnen windparken de prijzen onder druk zetten door het overschot te dumpen, en zo niet alleen andere windparken onrendabel maken, maar ook bv. een nieuwe kolen centrale. Greencheck is echter van mening dat de markt die voor electriciteit betaald met euro's nog steeds een belemmerende relatie heeft met de olie/gas/kolen markt. Het zou beter zijn electriciteit in een industrieel liquide bulkgoed te verhandelen, bv ijzer contracten of platina.
"Narrower margins mean it will take longer for companies to pay off building new gas- and coal-fired facilities. Those plants are needed.
They can run around the clock, preventing blackouts when the sun sets or the wind dies as European power demand
grows 5 percent through 2015 compared with 2010, according to Paris-based bank Societe Generale SA's forecast."
Nee, "those plants are not needed", electricteit is dus op te slaan.
"Using Minnesota wind to make nitrogen fertilizer for farmers
could transform agriculture, wind and hydrogen economics overnight"
Rolf Nordstrom, Upper Midwest Hydrogen Initiative (bron)
Energie opslag is nog altijd een 'probleem' en het is de vraag waarom, we hebben redox flow batterijen, vandium en anderssoortig (hierover binnekort meer),we kunnen waterstof maken en opslaan onder lage druk, we kunnen methanol maken, ammoniak (beide ook goed op te slaan) we kunnen de energie in electrische autobatterijen kwijt (ook een goede manier van distribueren), maar al die opties zijn 'duur', de meeste zijn verzzwegen of ontkend. Een protable ammoniak fabricage container voor windparken werd in de VS bedacht, maar komt niet uit de verf, terwijl het een heel makkelijk process is. 'Could' wordt vaak geinterpreteerd als 'mogelijk ooit', naar betekent in veel gevallen 'kan nu maar doen we niet'.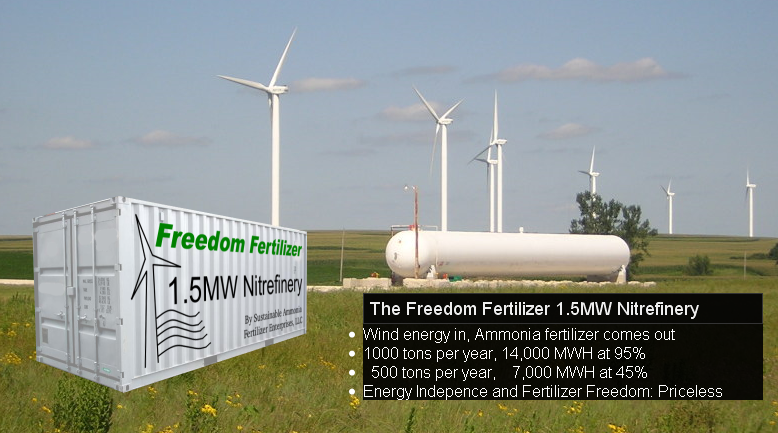 Groener dan gasgebaseerde kunstmest
Laten we ons niet door de banken wijsmaken dat wind geen toekomst heeft omdat er een overschot is, alleen als de laatste nucelear en carbonfuel centrale (olie, kolen, gas, biomassa) gesloten is zijn we behoed van de terugkeer van het huidige carbon/credit systeem , en banken zijn daar zeer aan gehecht. Als de energie van een windmolen of zonnepark nuttig gebruikt kan worden dan rechtvaardigt dit de bouw. Desnoods maken we windmolens met windmolen energie.