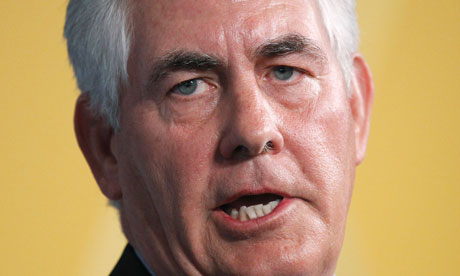 Een colporteur niet meer..
Rex Tillerson denkt dat het klimaat probleem 'Te managen' is, hij wil liever de armen van Africa van stroom voorzien. Op basis van fossiele brandstoffen!
"The world's poorest residents "don't even have access to fossil fuels to burn."
Intussen weten we dat fossil fuels helemaal niet de enige manier is om een land uit de armoede te lichten. Wel een manier om meer olie te verkopen,vooral olie die uit Sudan komt bv. Exxon wil afrikaanse olie exploiteren, en moet de bevolking dus iets beloven. Een bevolking die in 2020 al met 50% minder regen moet doen volgens sommige analyses, en dus maar rain index futures moet kopen, want irrigatie is zeer ongebruikelijk.
"Increasing CO2 emissions in the atmosphere will have a warming impact," Tillerson said. "It's an engineering problem and it has an engineering solution."
Ja, hij is civil engineer, en veroorzaakt het probleem. Managers van olie maatschappijen zijn ijselijk eenkennig. Ze zeggen gewoon wat goed voor hun business is. Wat het ook moge zijn. Dat moet eenvoudigweg verboden worden. We mogen geen directeuren van kinderspeelgoed hebben die openlijk beweren dat lood in speelgoed wel tot hersenschade bij kinderen leidt maar dat we dat straks met medische technieken wel oplossen. Zo iemand beschouwen we als een psychopaat. Bedrijven moeten verder kijken dan de eigen kassa. Wat zou er gebeuren als we een goed alternatief hadden dat geen klimaatprobleem veroorzaakte? Dat hebben we. Solar. Jaarlijks 23 keer zoveel energie als al de kolen, olie en het resterende gas bij elkaar.