We had the opportunity to visit the Urban Farming project in UF de Schilde in The Hague, to satisfy our curiosity for this type of solution to long supply chains and energy waste in farming. The site is situated on top of an old telecom building, which was selected for the weight the floors could carry.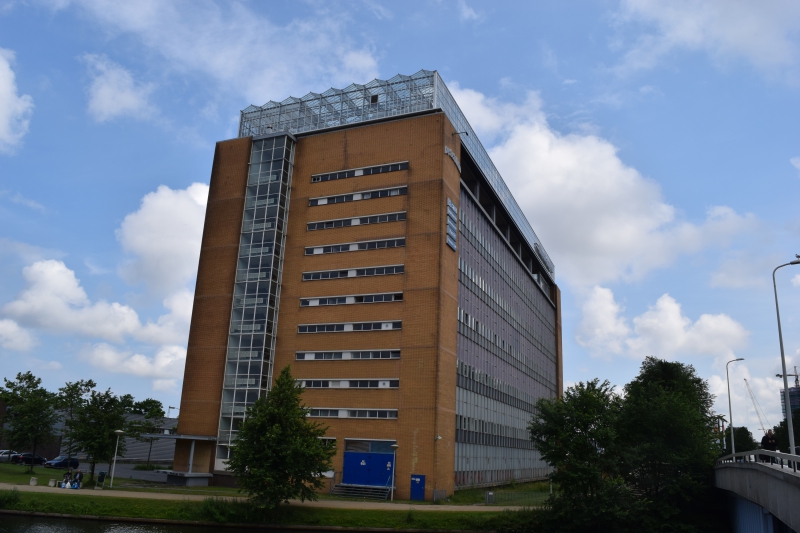 This Urban Farming project is part of an international rooftop farming enterprise funded from Switzerland. This should ring some "that's wierd" bells right off the bat. Our question to be answered by our visit was "Is this really a project aimed to utilize unused resources (roofs) to bring cheaper and healthier and less climate impacitng food to local communities?" and also "Does this project teach us what we need to replicate it fast?"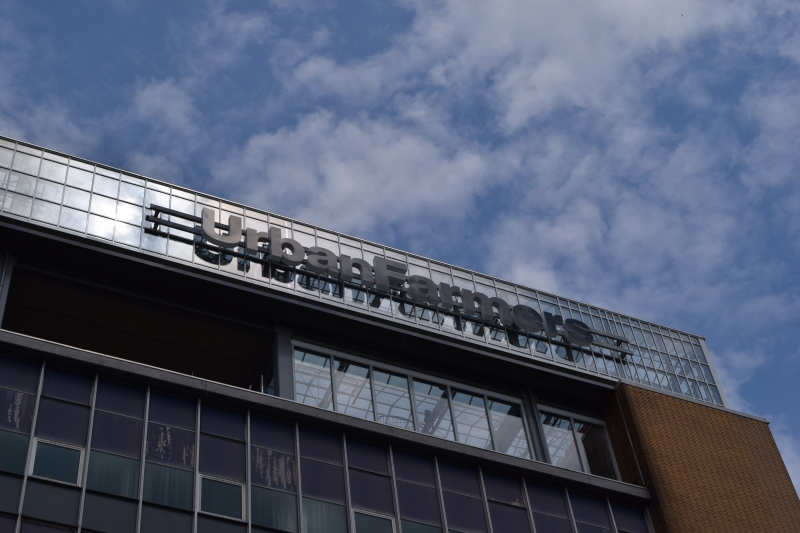 The site cost about 2.6 million to build. It was initiated from Swiss investors, who found local companies (holland has an enormous amount of greenhouse know how) to design and build the system. Paul, below, who made a aquaphonic system (combining fish farming and aquaculture) himself, guided us through the site, which now consists of two floors, one with fish tanks, one with greenhouses.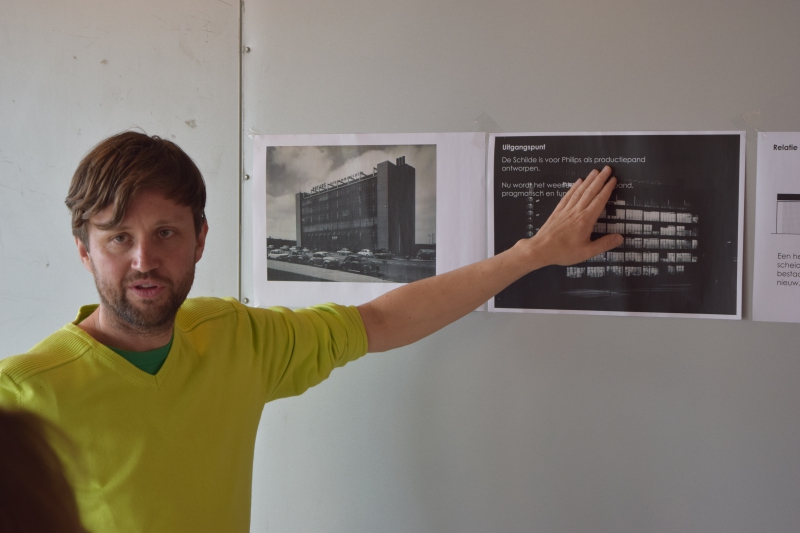 The site is still starting up. The guided tour costs 19,- Euro. As we would learn the site is there to make money, the produce is targeted at restaurants and priced above regular organic food.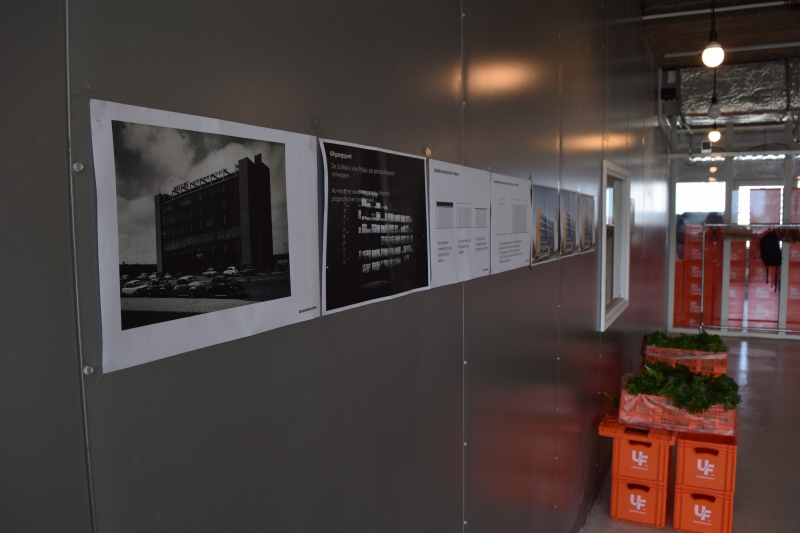 A lot of plastic being used. No holds barred on doing it the 'best practice' industrial way. Below we check out the fish tanks, holding Tilapia. the fish is bought from outside and grown in the tanks. The green food distributers (automated) contain fish food combining meat, fish and vegetables. The idea is to cycle the water from fish to plants and back, although we don't know if there is any benfit from the plant root water getting to the fish.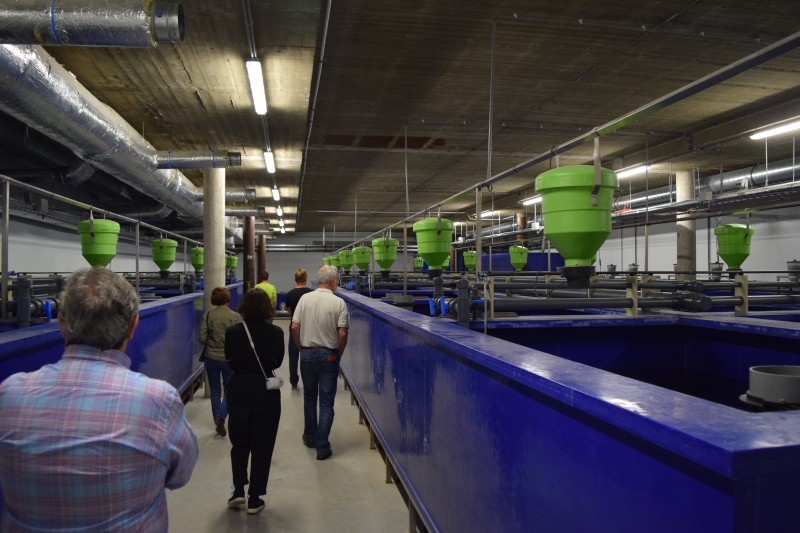 The plant water also sees a lot of evaporation, so loss, and becomes more saline.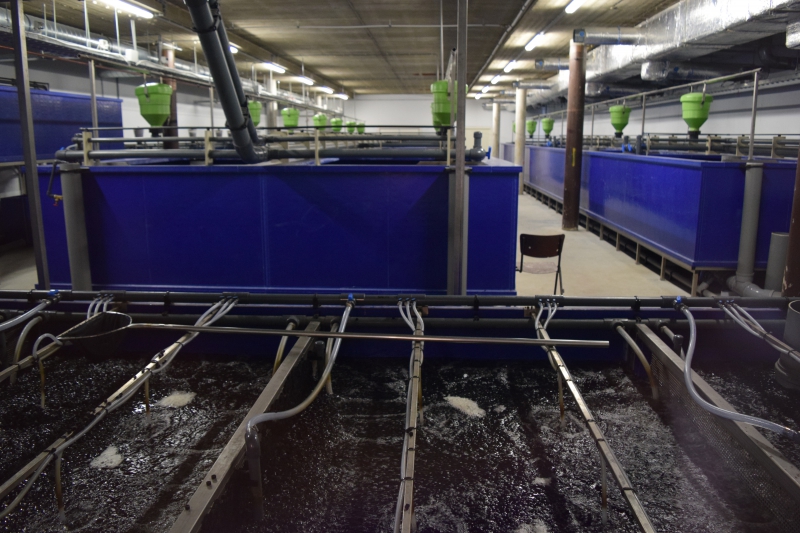 Above you see a tank with black plastic pellets, that function as a home to two types of bacteria that turn the Tilapia excrement into something nutritious for the plants (they need phosphates and nitrates).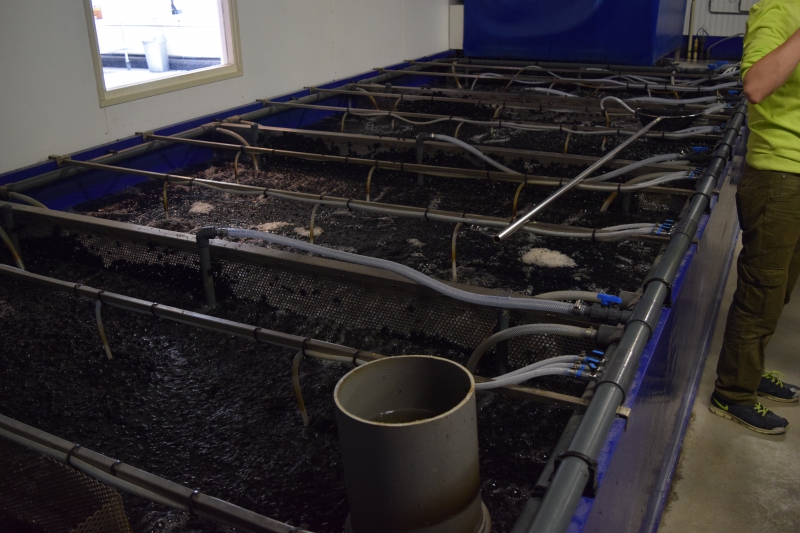 Looking inside the fish tanks..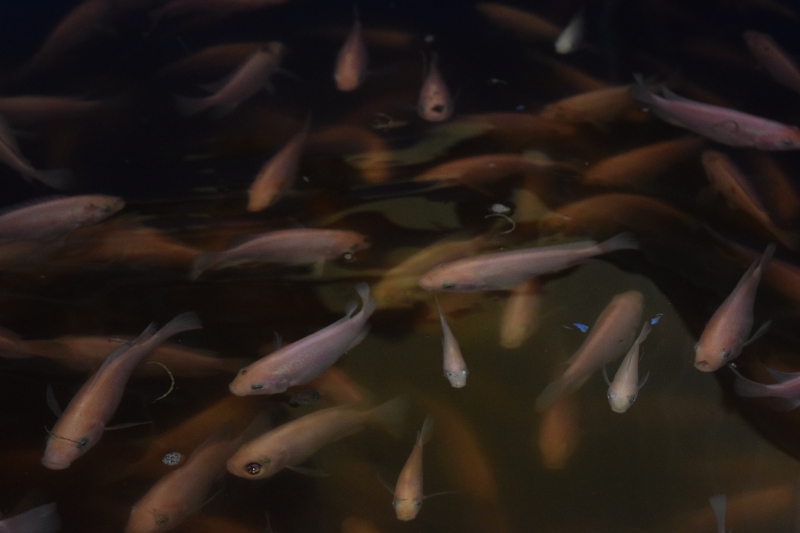 Tilapia in two stages.. We assume they don't get bored. There are plans to grow musquito's to feed the Tilapia. This is easier in an open pond aquaculture, but as you will see this setup is not designed that way.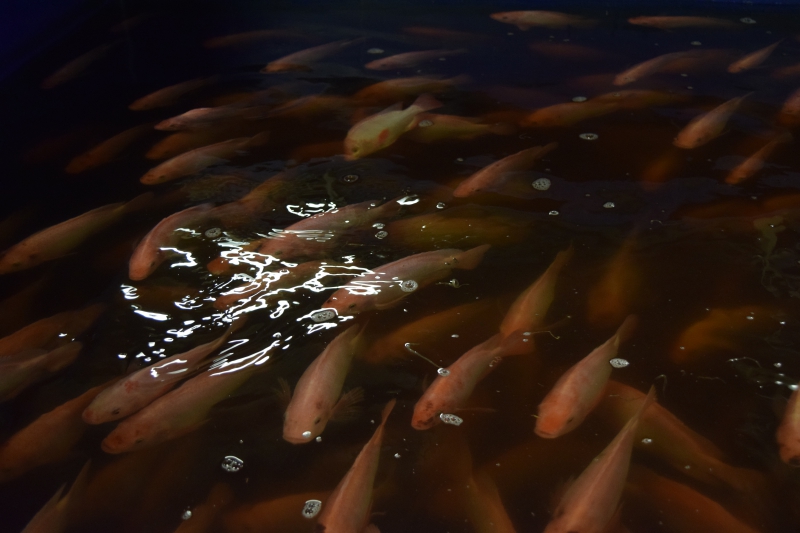 The blue box below contains a water cascated that removes excess CO2 from the water, and plans are to use this as fertilizer in the greenhouse.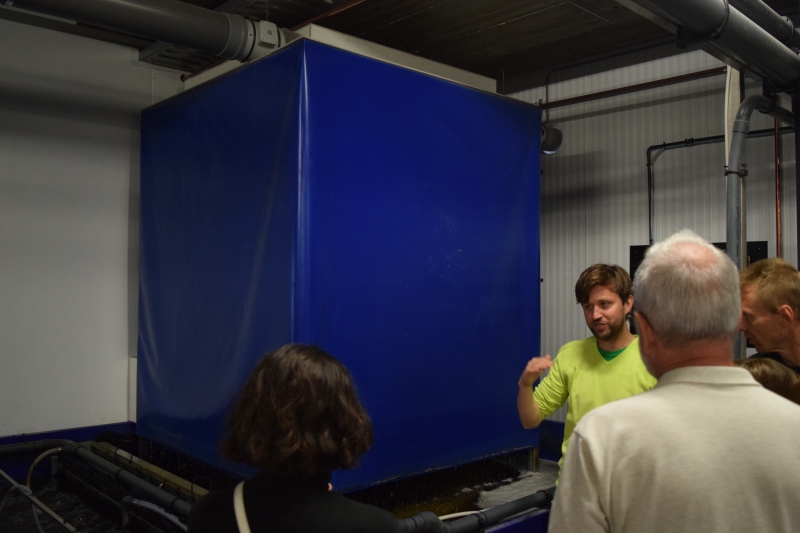 One floor up is a different world. The heavy construction (because of wind forces no doubt) holds several spaces, one in which tomatos are grown. We where not allowed into any growing space for risk of contamination, as we where asked not to touch the fishtank water. Is that risk real?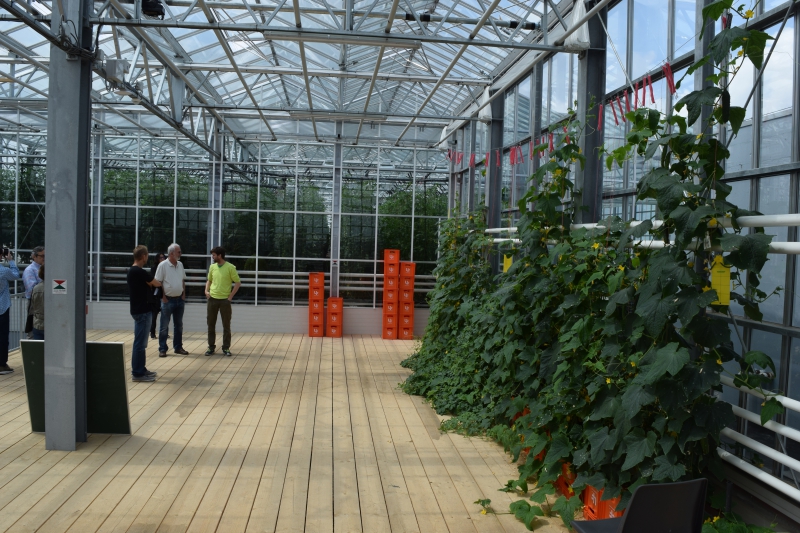 Some freely growing pickle plants create a nice backdrop. The intent is to rent out the floor for events. This is a key part of the UF projects, "To tell a story" and to maximize the urban farming gimmick it seems. Of course it is not a gimmick.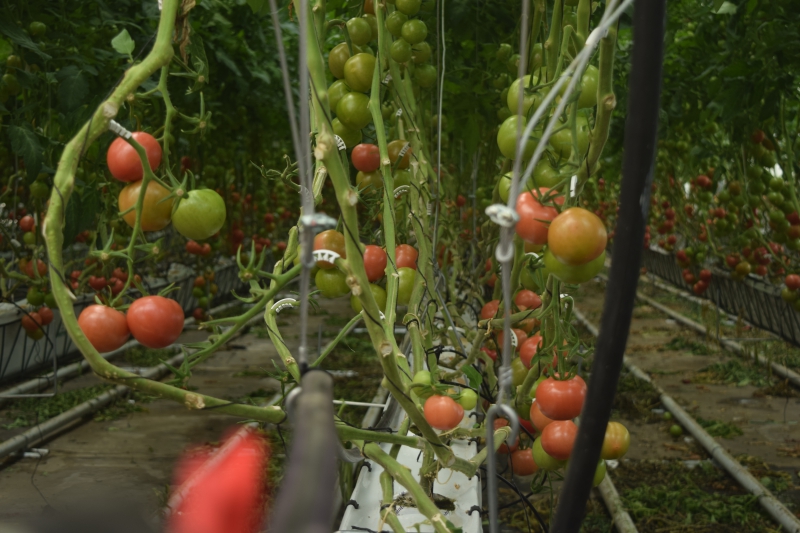 Above the tomato's being grown. Several crops come out of the greenhouse, pickes, bitter cucumber, cherry tomatos. All organic, mostly because the fish won't tolerate toxins and have to be human edible. They are like tasters in a French court, not a bad system..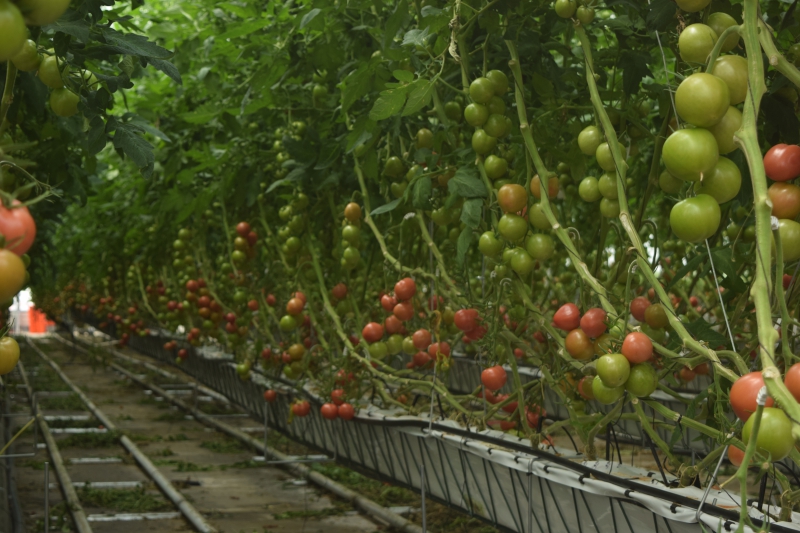 The tomatos root in a plastic trough which has three layers through which the water trickles down. This helps airrate it which is good for the plants. Pests are controlled by little cars with insect 'seeds' that will eat them. This growing method saves water, insecticides and produces higher priced vegetables.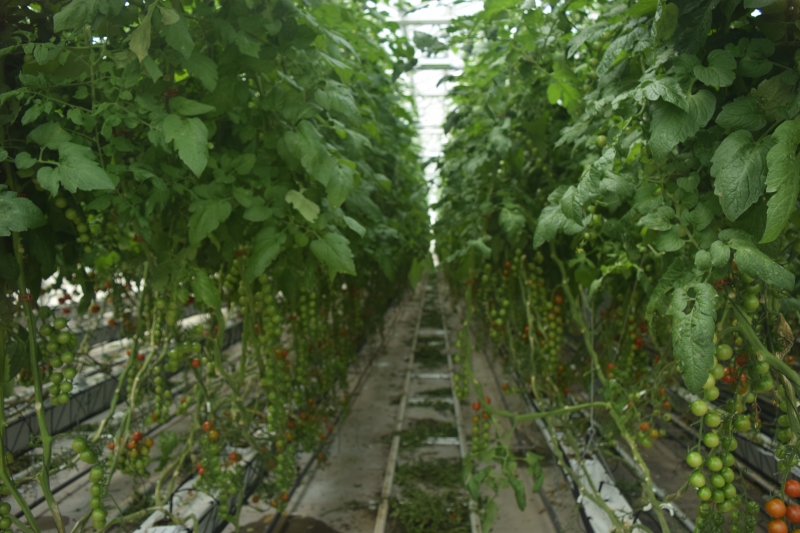 Other crops are started in a separate greenhouse. Its business as usual, what happens in any agricultural professional setup.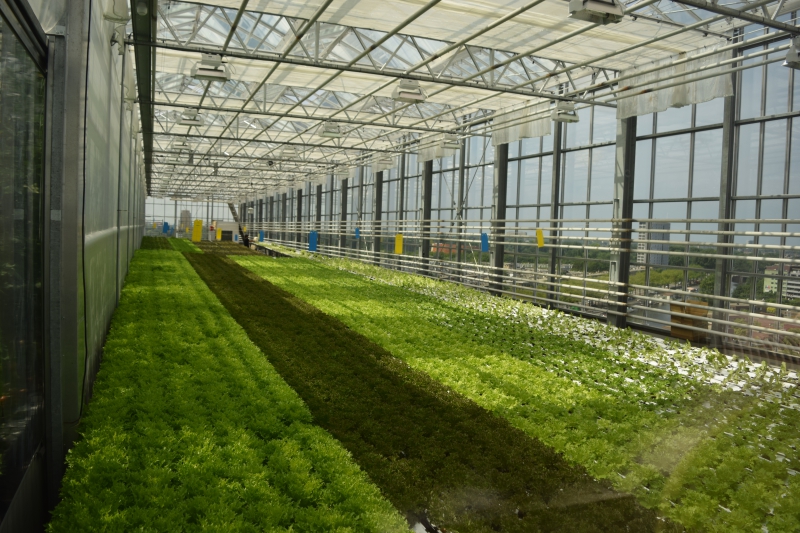 The tour ends with a view into the above greenhouse. We where asked our thoughts about it. We did not feel that the setup or project was what we need because it did not cut any corners and simply threw millions at the challenge of rooftop farming. With thousands of acres of greenhouse just around the corner and the option for electric logistics this project can never compete. Also the so called Westland greenhouses can decide to grow Tilapia under their greenhouses..
Amongst the other visitors was a spanish plastic manufacturer and a South African that knew about this from a friend who build a similar system from trash lying around..
Like we have seen with Uber, there is a new taste of big money to own every activity. We are told it is a bottom up organic thing but it isn't. It is millions put into the taxi market, data sold off, laws broken. The financial world can always do this with ideas that are to be implented at a small scale and locally, and thus always shape thinking of the wider public about these approaches. Local companies see an opportunity to make money and protect their business.
This is not the way urban farming is done in the wider world (it for one does not seek to supply at lower cost to the local community), so we will look more at those projects. That said this project will have to meet it's financial constrains so hopefully this will make a living lab for moving to high cost industrial approaches to greenhouse farming to more cost effective methods applicable to all..