De energie die wind turbines genereren hangt af van de snelheid waarmee de lucht zich verplaats, de wind. Dit is omdat de turbines de druk van deze wind die samenhangt met de massa ervan omzet in roterende beweging, die doorgaans een electrische generator aandrijft. Lucht weegt ongeveer 1.3 Kg per kuub, water 1000 kg per kuub. Bewegend water is dus een veel rijkere bron om energie uit te putten, ongeveer 780 keer rijker.
(Marine Current Turbine's 1.2 MW getijde turbine, goed voor 10 MW per eb/vloed cyclus
Potentieel
Onderstaande plaatje toont de
'
cotidal lines'
de isocline equivalent voor getijde gradienten. Het is te zien dat het water onder invloed van de maanstand op sommige plaatsen rondstroomt. Voor de nederlandse kust is de stroming niet super sterk omdat deze door het engelse kanaal wordt geblokkeerd. Er is echter geen ruimte gebrek onder water, dus men kan de bladen langer maken, net als bij wind turbines gedaan wordt. Ook kan energie gewonnen waar niemand er last van heeft. De beste plekken zijn die waar de lijnen het dichts bij elkaar liggen.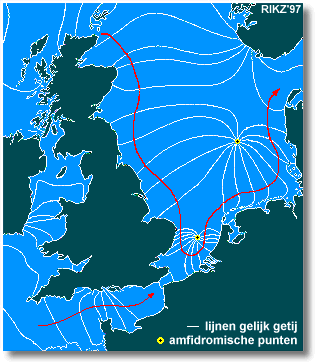 Standaarden
Hoewel er nog nauwelijks getijde installaties gebouwd worden is er al wel een internationale standaard. Was die er voor olie boringen in het begin van die industrie? Boven getoonde turbine voldoet dan ook aan "UK Government's operating performance criteria for tidal and wave energy". Natuurlijk zijn de waterwegen en vaarroutes belangrijk en zou het niet handig als iedereen maar zijn gang kan gaan. Maar met zulk potentieel kun je toch bijna niet de mist in gaan?
Zorg om de Milieu Impact
De milieu aspecten worden steeds als voorwaarde gesteld voor de volgende stap, net als bij shale gas en olie winning! Goed zo! Er is bijvoorbeeld een moratorium op de Schalie gas test boringen in Boxtel, nav de vele meldingen van vergiftigd grondwater in de VS (Oh, nee, dat moratorium is er niet! Oops, onze fout). Het is logisch dat de ene zeer productieve alternatieve energie bron bij elke stap op mogelijke nadelige gevolgen wordt afgerekend, terwijl de andere vervuilende fossiele energiebron ontdanks bewezen schadelijke gevolgen wordt toegestaan. En dan willen we de doodoener 'global warming' niet eens noemen. Problemen zijn economische kansen, dus deste meer deste beter zal een econoom je uitleggen (als het busje nog niet gekomen is).
"All we've seen is them (fish) bypass the turbine"
"SeaGen has been independently monitored for over two years with no sign of any environmental harm"
Oh, niet te vroeg gejuicht!De interviewster zegt het zelf "your job is to look for possible negatives"..
"All we have to do is prove in a second phase that the environmetal impacts are sufficiently small"

Turbines in de Afsluitdijk
Offshore Wind en Getijde combinatie?

Misschien zijn deze wel te combineren, en misschien is offshore tidal wel goedkoper. Zijn die twee wel eens vergeleken?
Rance Niet Vergeten

"In November 1996 the La Rance tidal power plant celebrated 30 years of active service during which time 16 billion kWh of electricity were generated without
major incident or mechanical breakdown. The initial capital cost of the
power plant (620 million Francs) has long since been recovered, and the
cost of electricity production is now below 0.02 Euro per kWh." (bron)

Intussen 45 jaar X 68 MW per jaar = meer dan 4 GigaWatt aan 100 Schone energie. Rennes is al 30 jaar klimaat stad nummer 1 van Europa! De huidige kosten per khw zouden dus onder de 0.02 Euro/kWh moeten liggen. Niet gek, een installatie die steeds goedkoper genereert. Dat betekend steeds meer winst. Dat zou een goede basis voor een pensioen fonds kunnen zijn, olie wordt wel meer waard, maar mensen kunnen het op gegeven moment niet meer betalen en dan stort de economie in en is je investering in olie aandelen waardeloos..