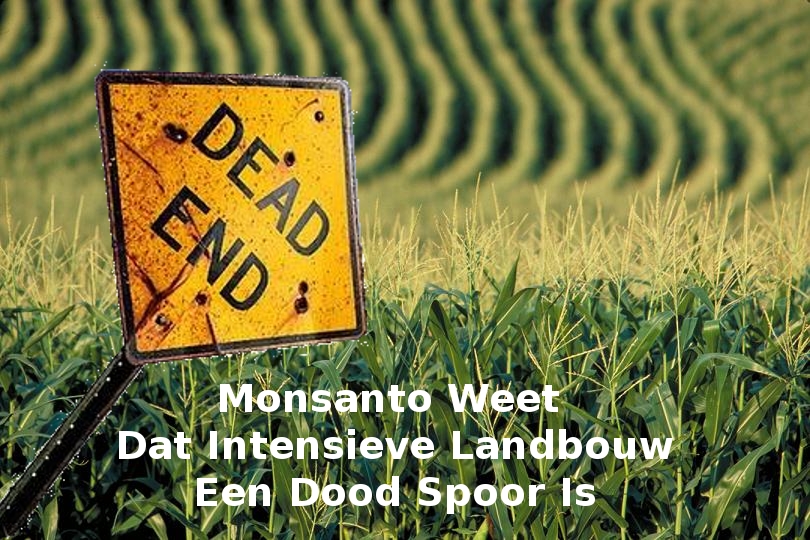 Ik kwam een stuk tegen van rond 1997 over hoe intensieve en organische landbouw zouden slagen in het "Voeden van de wereld". Hieronder een stuk vertaald, laat het rustig inzinken..
"De commerciele industriele technologieen die vandaag worden
gebruikt om de wereld te voeden… zijn niet intrinsiek duurzaam", zei Monsanto
CEO Robert Shapiro tijdens een recente Greenpeace Business Conferentie. "Ze
hebben niet goed gewerkt om zelf voorzienendheid en voedsel veiligheid te
promoten in ontwikkelings landen". Het duurzaam voeden van de wereld "Is
uitgesloten met de huidige landbouw technieken" zei dezelfde Shapiro tegen de
Society of Environmental Journalists in 1995. "Het verlies van de toplaag,
verzilting van de grond door irrigatie, de afhankelijkheid van petrochemische
stoffen..zijn vrij evident niet duurzaam. Het is duidelijk niet hooudbaar"
We hebben hier de CEO VAN MONSANTO aan het woord.
De petro/eco productie kloof

Ik ben hier echt zelf opgekomen – in het stuk wordt namelijk ook onderzoek aangehaald waaruit blijkt dat organische landbouw zonder petro input en chemicalien misschien iets variabeler is maar verder vergelijkbaar of zelfs beter qua productie, zodat we in alle opzichten slimmer zouden zijn als we organische landbouw zouden optimaliseren in plaats van monocultuur – dat er door het agressieve veroverings gedrag van monsanto het volgende probleem ontstaat:
De intensief bebouwde (dode) grond zal niet produceren in de eerste jaren dat het zonder de petrochemische inputs moet doen. Het moet een levende, stikstof vangende toplaag ontwikkelen. Dit zal een 'petro/eco productie kloof' veroorzaken, een periode met grote productie tekorten.
Waar met kunstmest word geboerd zal de productie zolang doorgaan tot er geen kunstmest meer beschikbaar is, en dan zal het jaren duren voor er weer iets geproduceerd word. Waar organisch verbouwd word zal de productie ongestoord doorgaan. Het business model van Monsanto is bewust gebaseerd op het klem zetten van de bevolking die direct van de productie afhankelijk is. Het probleem dat ik (en daar ben ik vast niet de enige in) signaleer is dat ook wij in het westen onder een zwaard van Damocles leven. En dat is nogal dom als dat niet hoeft.
"Results
from the first 8 years of the project show that the organic and low-input
systems had yields comparable to the conventional systems in all crops
which were tested – tomato, safflower, corn and bean, and in some instances
yielding higher than conventional systems (Clark, 1999a). Tomato yields
in the organic system were lower in the first three years, but reached
the levels of the conventional tomatoes in the subsequent years and
had a higher yield during the last year of the experiment (80 t/ha in
the organic compared to 68 t/ha in the conventional in 1996). Corn production
in the organic system had a higher variability than conventional systems,
with lower yields in some years and higher in others."