ref:perpaneel
De aanschaf van een zonnepanelen installatie is nog steeds een flinke investering. Als u een koop huis heeft kunt u die bij uw hypotheek optellen en de rente aftrekken. Een alternatief is om uw panelen een voor een aan te schaffen. Dit kan door panelen te nemen met een micro inverter, dat is een omvormer die 220 maakt en bij het paneel gemonteerd wordt. Er komt dan een kabel met 220 volt van het dak dat u meestal gewoon op een bestaande groep kunt aansluiten. Veel minder rommelig.
Het is idee is als volgt : U spreekt af dat u vier panelen nodig heeft die u wilt ontvangen over een periode van een half jaar. Dan kost elk paneel 400,- inclusief alles. Elke keer als er een paneel bijkomt betaalt u 400,- erbij. Aan het eind heeft u de hele installatie. Dit kan ook met meer panelen of over een langere periode. Het enige dat u hoeft te doen is stoeptegels voor de ballast te regelen (hoeveel hangt af van uw situatie) en een geschikt aansluit punt aan te wijzen in overeenstemming met de installateur.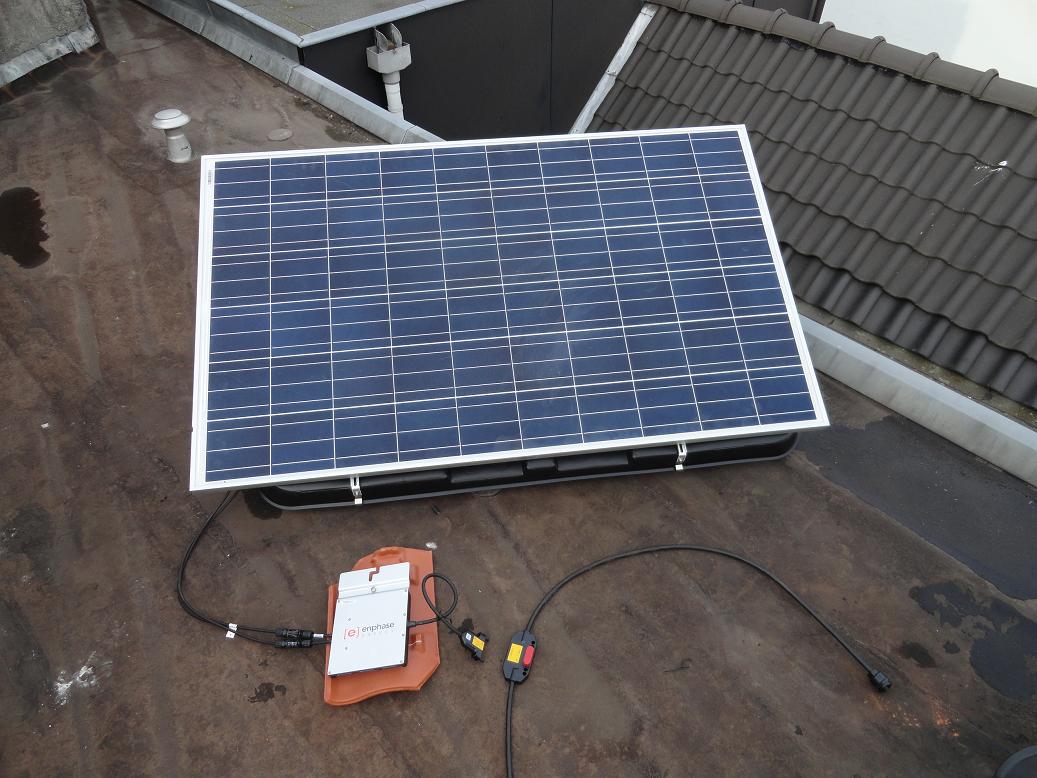 Een voorbeeld van het voorgestelde systeem. 255 Wp + Enphase + Steun (getoonde console steun kost iets meer)
Het rendement van uw panelen tov de investering is 11% of minder, afhankelijk van de kabel lengtes die nodig zijn. Voor een schuin dak zouden de kosten per paneel iets lager zijn, maar een schuin dak is meestal wat lastiger te bereiken.
De panelen worden eens per maand rondgebracht en dan indien nodig in de loop van de maand geinstalleerd. U kunt het ook zelf doen, alleen het aansluitkabel moet goed worden verzorgd. Zo kunt u uw installatie over de loop van een jaar of zelfs meer opbouwen.
Wij kunnen ook assisteren met het opstellen van leen contracten, dan kunt u certificaten van 100,- Euro aan vrienden en bekenden verkopen waarover u een vast rendement betaalt, dat u zelfs van de belasting kunt aftrekken!
Vragen? neem contact op met Frits Rincker 0644311561 of email info@greencheck.nl