Soms blijft een naam in je hoofd hangen omdat je hij nieuw is en geen betekenis heeft..Lupine had dat effect recent bij mij. Deze plant zou een prima grondstof zijn voor vleesvervangers aldus de Vegetarische Slager. Lupine blijk ik al te kennen als Vingerhoedskruid, de plant met giftige bloemen waarmee je zo makkelijke bijen en hommels kan vangen door ze dicht te knijpen als de hommel in de vingerhoed is gekropen.
Kennelijk zitten er niet gifdige delen aan deze plant met eiwitten enz. De gebruikte variant ziet er anders uit, heeft kleinere bloempjes en veel meer groen. De vegetarische slager schrijft er over:
"Het is een robuuste plant, die gemakkelijk geteeld kan worden zonder gebruik te maken van kunstmest en chemische middelen."
Een veld mooie lupines
We kochten een portie Vegetarische Shoarma, dwz lupine verwerkt tot. Ontraditioneel maakten we die klaar met wat pasta en courgette..de vraag is of je nog groente moet eten bij een vegetarische maaltijd. Enfin, het resultaat hieronder..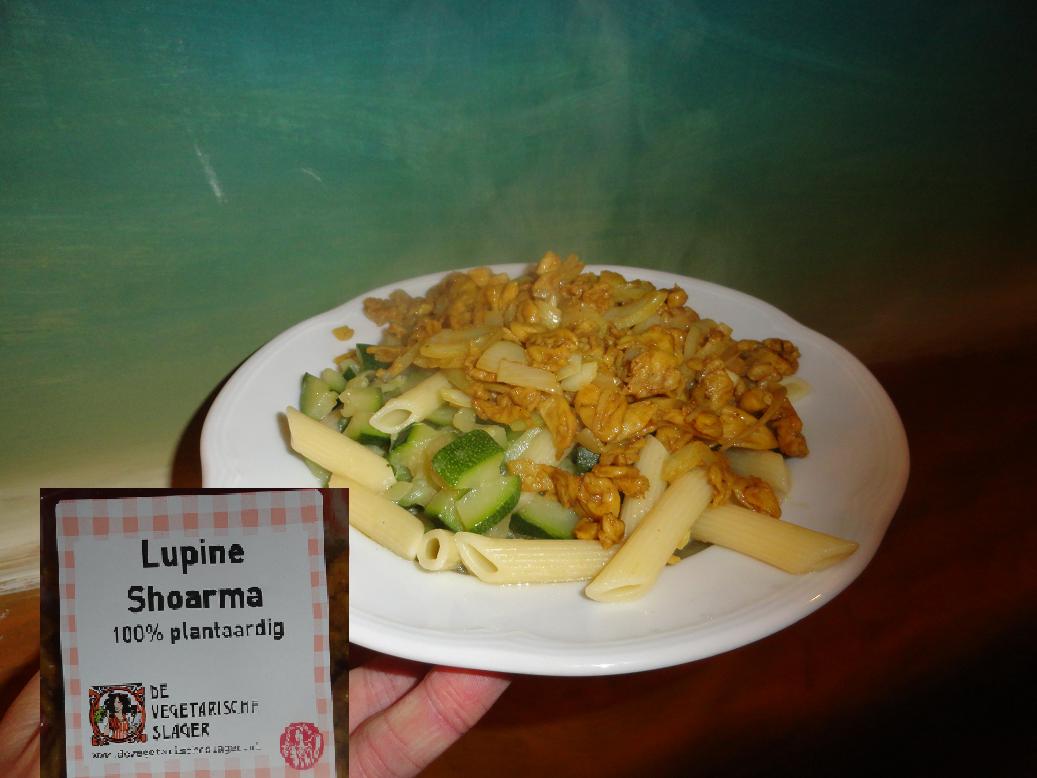 Deze vegoarma werdt niet heel hardt aangebakken, dus of lupine een knapperig korstje ontwikkeld hebben we niet kunnen ontdekken. De consistentie is gelijkmatig, een beetje zwakker dan kipfilet, je bijt er (te) makkelijk doorheen. Er zijn geen vezels of taai vet e.d. dus de overeenkomst met shoarma is niet merkbaar. De smaak is echter goed. Je zou het wel door shoarma kunnen bijmengen, dat zal de meeste mensen ontgaan. Toch is het maken van vleesvervangers een beetje knullig. Mischien kan beter gewerkt worden aan in kleine kip, koe of varken geperste lupine brokjes, net als voorgebakken aardappels en ingevroren doperwten, want vlees vervangen doet het prima.