You can become a member of my twitter account and support my efforts to cool our streets, cities and planet
(14/7/2023) I did a thing, I rented an electric camper in Holland which is build by a company called Fixxter.com, from another company called Leavv.com. This had been an idea of mine for some time. It is not cheap. I however say an opportunity in it as a way to draw attention to AlbedoEnhancement.com which is increasing the reflectin of Earht, land and sea to cool down our planet. At the same time a guy called Peter Lukursky, a carribean sailor from Australia, was promoting the elcanoworldchallenge.org and hoping to build a new type of catamaran in Greece. I convinced the owner of Leavv this would be a good opportunity to promote the camper, and he gave me a discount.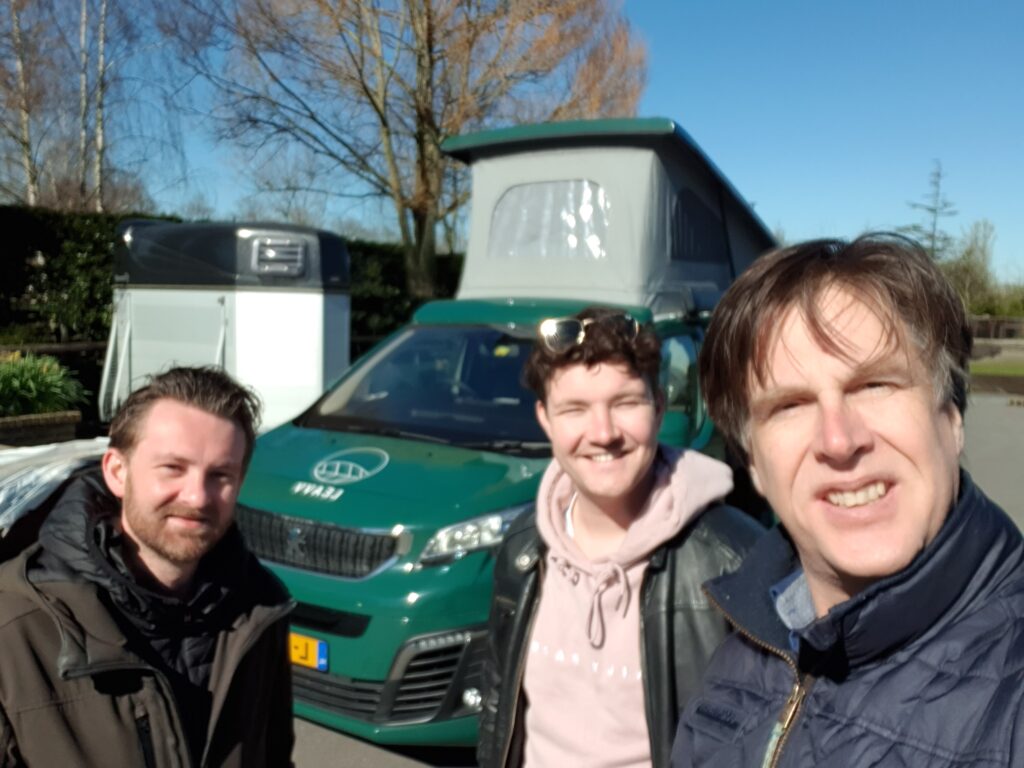 Money wise I had some reserves and wanted to do someting interesting.
The plan was to drive the camper to the South of Italy, then take the ferry at Brindisi or Bari to Greece. Drive to where Peter was building the boat and then drive back through Albania and Montenegro etc. To do this I thought I needed about 42 days. I did not know how often or easy I could charge the camper or how fast one can travel with it.
So on april 21st I picked up the Peugeot e-Expert, which looked perfect inside and out. I have not really travelled much by camper, not at all actually, so I could not judge. I lost about a day because of a miscommunication about the pickup. I had to drive it to my home, load it with clothes, guitars, camera's and demo material on Albedo. I made banners to stick on the side, but they where to large for the camper.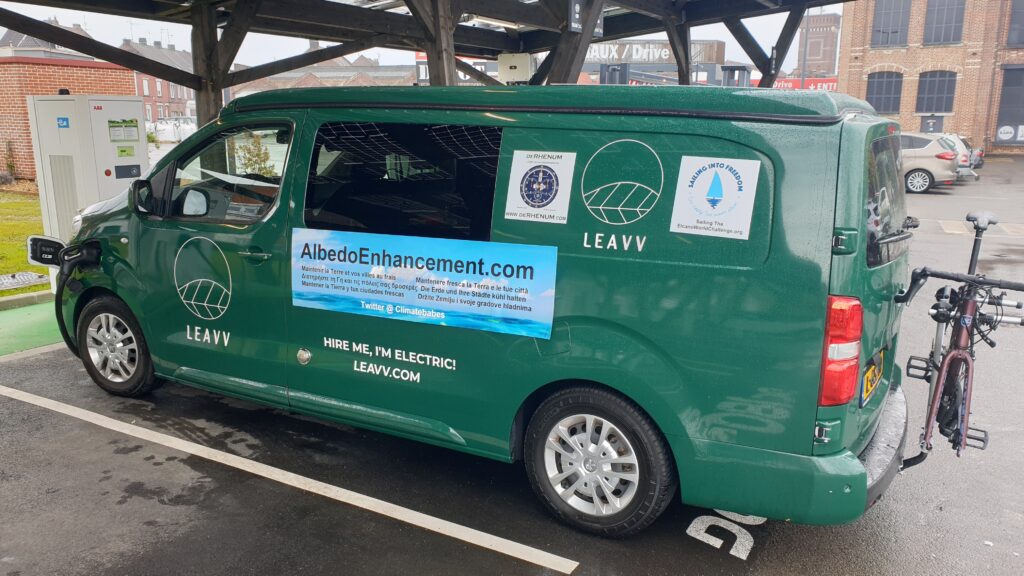 To warn you, my philosphy is that if I drive a camper, I do not have to go to a -camping-. It is legal to park and sleep in a vehicle in most european countries, Holland and Belgium are excluded and some municiplalities will not allow it. Otherwise I have travelled like this for years through Spain, Italy, France, Germany, Switzerland. It is really cheap, allowing a daily cost of about 10 Euro if you work at it. My last trip was to see the Biennale in Venice, september 2022.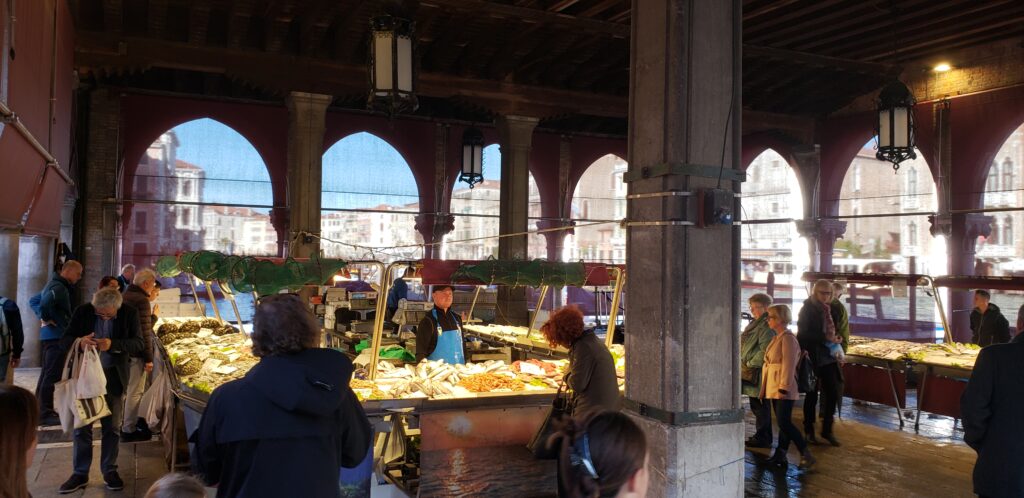 I brought with me my Nikon D3300, A Sony ZVE10 (which I believed I needed) and my trusty Galaxy S9, which makes great photos and has a one of the highest screen resolutions. I don't think I'm a great photographer, I did travel around for years making promotional pictures for my twitter channel @Climatebabes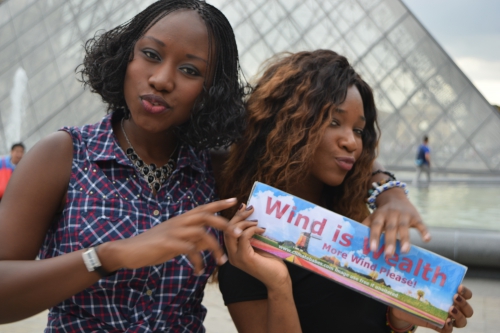 The main drive of the first part of the trip was to get South of Rome, terra incognita (mostly) for me. Also to make cool pictures of the camper and organize the meetup with Peter in Greece. And make videos about Albedo to cool buildings and cities and hopefully the world.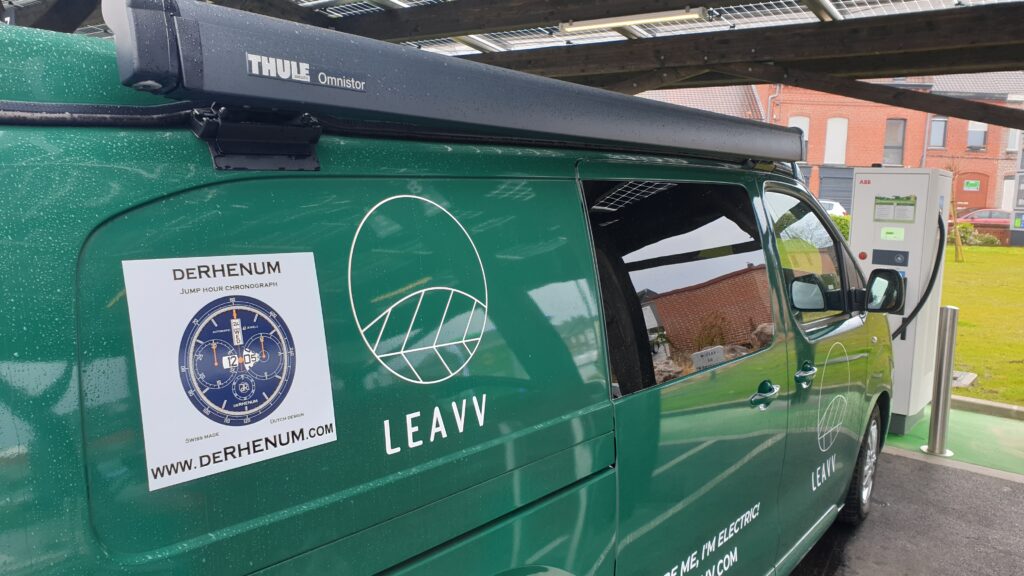 I will add some along the way pictures just for the curious. The driving with the e-Expert was easy to get used to. It has a forward, revers switch, it has several modes but I mainly used ECO. I tried to stay below 100 km/h in terms of speed.
Getting used to charging wasn't the best experience with the locations I visited first. I used the Chargemap app and had several charging card options. Most locations accept chargemap, so its not a bad service.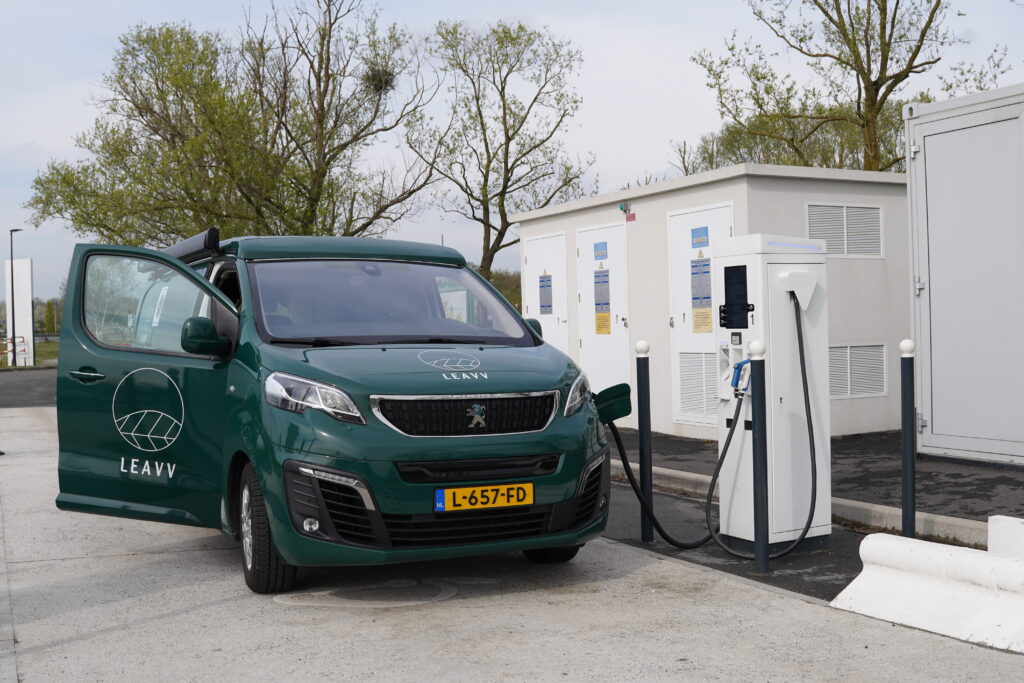 Its become clear that there is now a preferred charging tower that is rolled out across energy 'brands' of which the highest capacity I came across is 350 kWh/H, but there are still early variants from different manfacuturers with varying ergonomic qualities.
Paris
I visited Paris many times, but liked the idea of a shot of the van in front of the Sacre Coeur or Eiffel Tower. As you can see I was carrying my bike on the back. This changed later due to the risk of theft. My carrier had no lock.
I of course had to learn about the range of the vehicle. It wasn't 330 km as advertised, more like 290 max. This wasn't an issue however, if you think about it, its not the range that matters but the maximal charging speed. I was effectively charging 50 kWh every time I stopped. The max charging rate of the camper was 50 kWh, so it took me an hour to fill it up. In the end it is the charging speed of the vehicle that limits your travel speed, because in most places to start or stop charging takes less than a minute. I have to add this is at DC charging spots, do Direct Current, straight to the battery pack charging. The alternative which is ony relevant for very slow charge speeds, is AC or Alternating Current.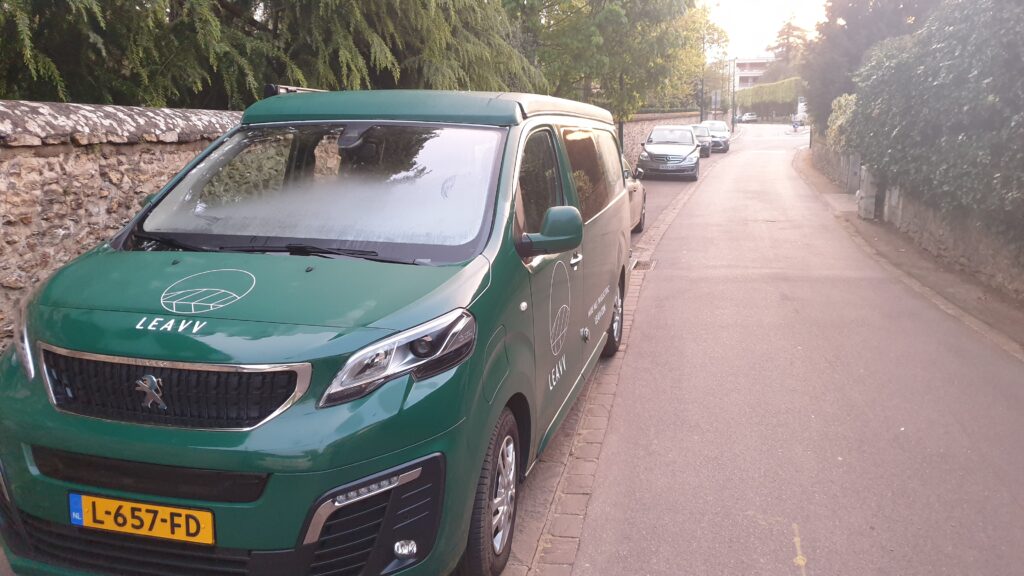 I found that to get ahead just pick the next charging location, make sure you have 50 km of charge left when you arrive at it. This is because the DC place my not actually be there (!), (The Chargemap app should only be trusted when there are pictures, otherwise you may be disappointed). If the DC charging spot is there you lose as much time as you would if you drive further, so it doesn't matter if you charge early or just in time, because of the vehicles charging speed.
I did not stay long in Paris, because I did not know how much days I'd need for the round trip. I choose to drive South and enter Italy via a tunnel at Frejus. Its 50 Euro to pass through the tunnel. Tunnels are great for EVs, evey efficient. This was 'making miles', drive, charge and nap, drive..
I found this route fast and easy, it is longer, but I got to see Paris.
Turin
Its a bit different traveling with a camper EV than a car EV, because you can't sleep easily in a car. With the camper I just had the bed ready, so at every charging station of when I got tired of driving I could take a nap.
Turin is one of my favorite cities in Italy, its like Milan but quieter. It has a large pedestrian area, beautifull architecture, good food. It was a pass through thing though, but I decided get a shot at a monument the Fontanella, which is on a hill with a good view. You can see the snowy peaks of the Alps in the distance.
I decided to take my (new) bike and go ride through Turin. I carried my laptop, two cameras and phone with me. I was unlucky, it was a monday and my favorite restaurant was closed. I checked out the city between 15pm and 17pm to return to a ransacked camper. I had parked it at an unpayed spot, this was a mistake. I decided to do that because I visited Turin many times with my cars and never had a problem.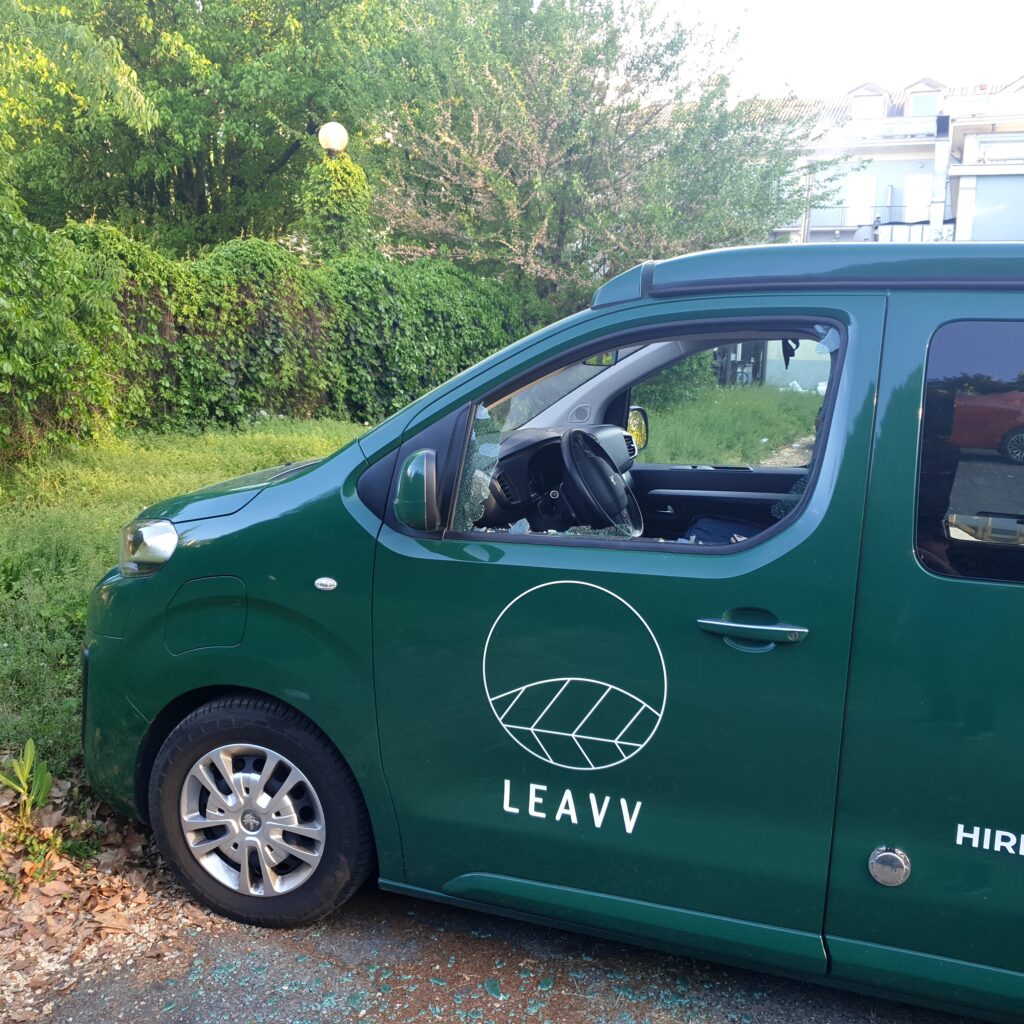 I was pretty calm under the circumstances, I was annoyed but was focussing on getting the trip completed, getting South of Rome. The police came. I lost a very nice guitar, a wifi speaker, boxes with small electronics, backpacks with clothes. I did not worry too much because I took out insurance with Centraal Beheer Apeldoorn. This later turned out to be a mistake as well, I guess one really needs to read the small print. These days 'easy to steal items' are no longer insured.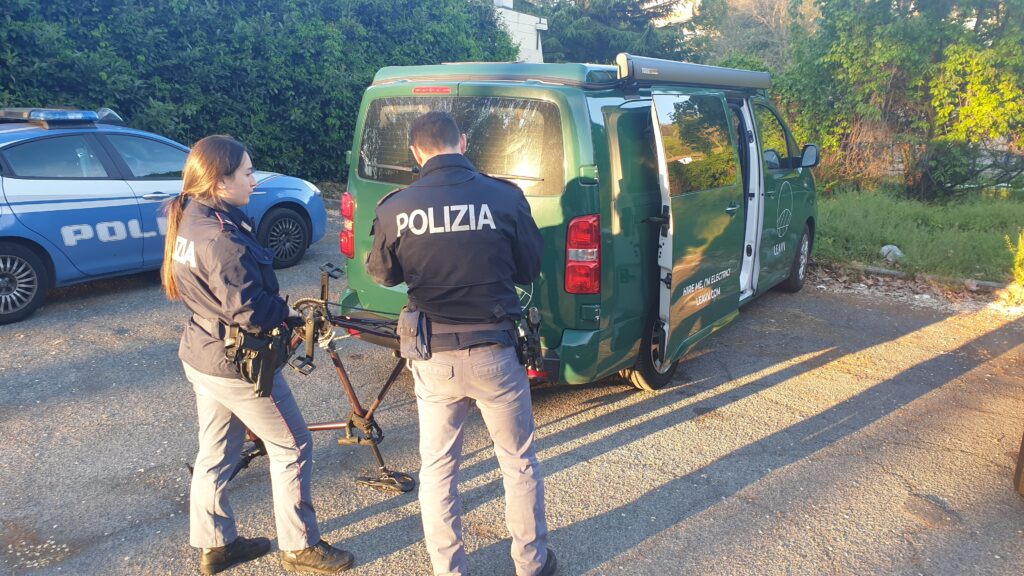 I spend a couple of hours getting the right documents for insurance purposes nonetheless, could have saved myself the hassle. Good thing I took the bike, Now the damage was about 2500,- Euro. It stayed that way, because Centraal Beheer Apeldoorn did not cover it!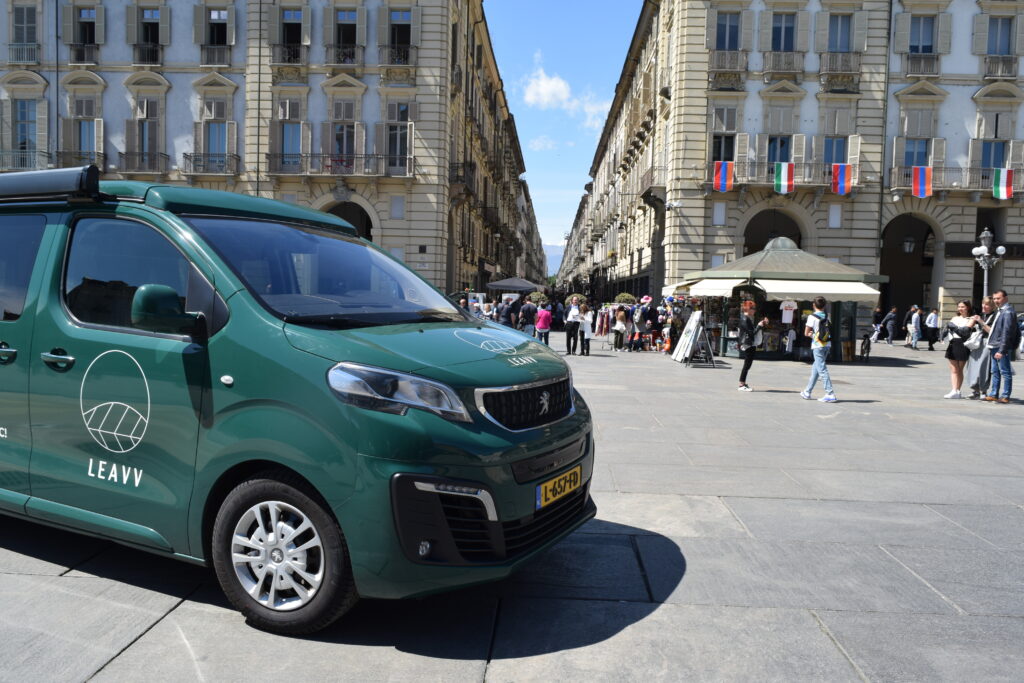 The window could not easily be replaced, Carglass was designated as the repair service, but they don't stock the windows, so that would take a week. The owner/Leavv.com could not do much from Holland so I decided to drive on with a covered window, which was fine as the weather was kinda nice.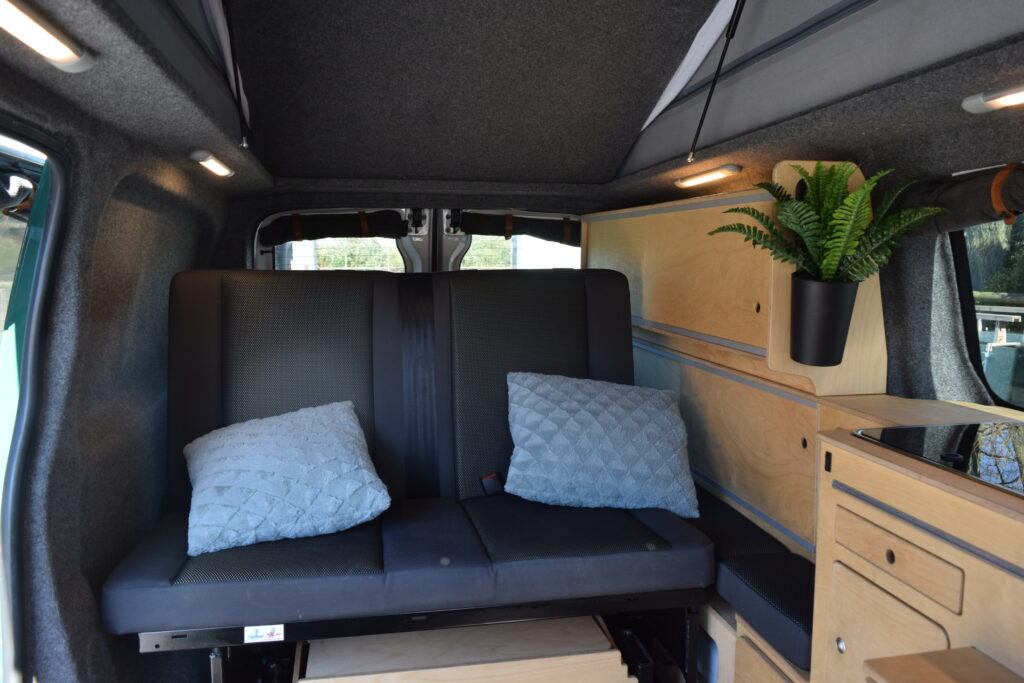 I should have shown more of the inside of the camper. You see a raised part of the bed, under it, in the back, you can store cables and other stuff. The cupboards on the side are ok, they can slide open when you accelerate, there is a fountain, gas coocker, fridge, but to me this was not the ideal setup.
Ideally these functions are close to the doors or even possible to move outside the camper. I did not go for the chemical toilet option. This is a more or less standard design from Fixxter.com, they have not asked my review. 😉 The simplest way to improve the design is to imagine the requirements if it was all on a yacht.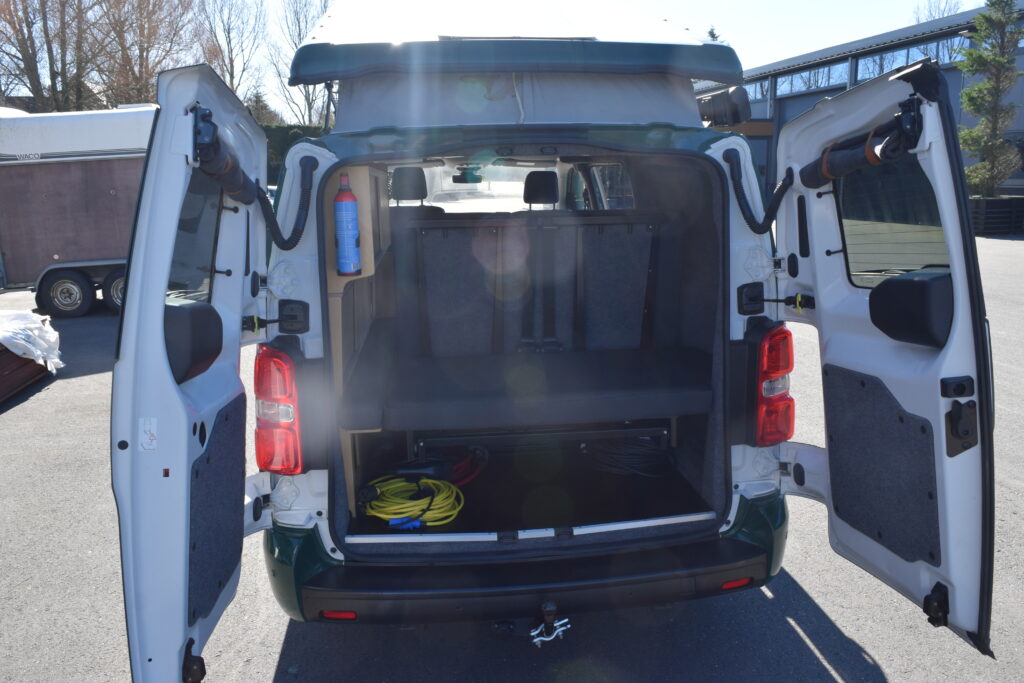 The best features imho where the fridge which kept working no matter the weather, and the big tray between the front seats, where you could dump whatever and keep your camera ready. It wasn't water proof though. Think yacht!
Sestri Levante
Maybe fun to talk about Google Maps for a second here. It keeps track of all your movements if you have it installed on your Android phone. You can go back years and see exactly where you where on what day. This is both a privacy concern and pretty amazing. Strava was in the news because it showed the live location of a russian army general who was easy to kill. I had use of this functionality to return to places I know, for example a Pizza place near Florence I enjoyed.
At the same time Google Maps sucks balls. It plots a route and does not know anything about the road quality. So you get send up the most incredible roads (which Italy has), made for donkeys or the typical narrow tractors. In cities you get send through streets that are barely used. It seems Google could do some datamining, rating the road sections based on usage, and vastly improve its directions. I damage the camper the first time due to Google Maps sending me up a way to steep incline.
The route I took was a bit challenging for my camper, I took the road SP69 from Campo Ligure, which is a beautifull winding road through a nature reserve. As I was rising over the ridge that separates Liguria from Piedmont I saw the range drop precipitously, from where it was plenty to reach the next charging location to where it was about 16 km short.
The way I found out it worked was that Peugeot shows you how much km you can still go if they where of the same 'intensity' as your last five minutes or so. That means if you have 50 kWh for 200 km range and you drive at a 25 kWh/h intensity your range will be 200 km, but if you then go up an incline and your intensity becomes 50 kWh/h, your range halves to 100 km. If you then go down where you use -zero- kWh/h your range goes up again.
Google Maps provides a way to (roughly) see the inclines/height differences on a route, which then inform you what to expect. That piece of SP69 went up about 500 meter (330 feet?). The range picks up going down not because your recharge the battery, but because the range estimation uses the near zero kWh consumption to reestimate itself. So Google Maps, navigate as a bicycle, and you can see what the 'intensity' of the route is. I don't think this whole effect is known to most EV drivers, who for that reason can be surprised by a sudden drop in range as they don't notice they are going up a hill.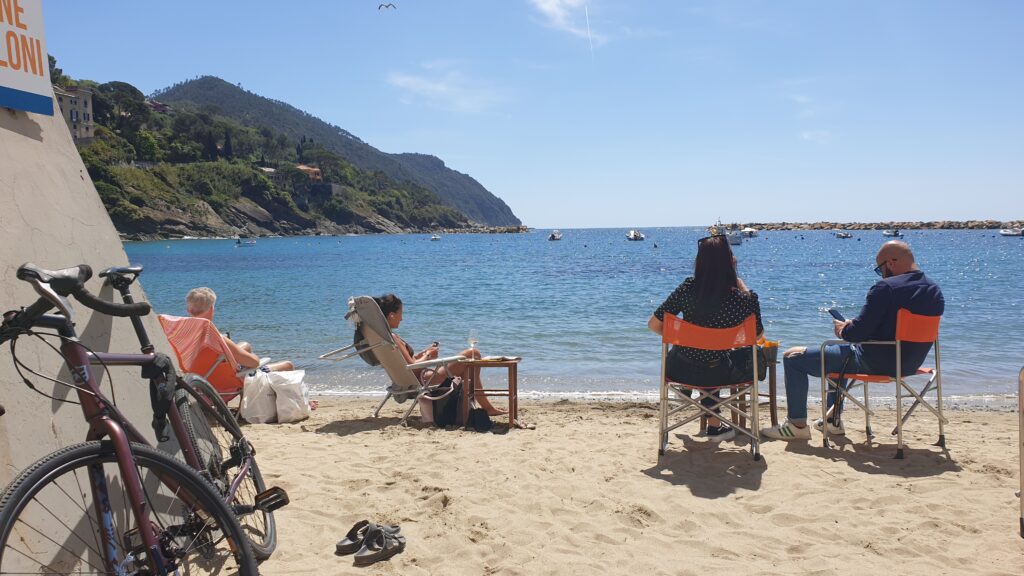 To be continued..
15/7/2023 I still had my broken window, and after calling around and talking to the lease company and a local Peugeot dealer I managed to arrange they would fix it, they could get the parts in a short timespan. This was near Sistri Levante, which is one of those nice bays that show the promise of the italian coast. The beach was lined with dead molluscs though, not sure why. It was very hot.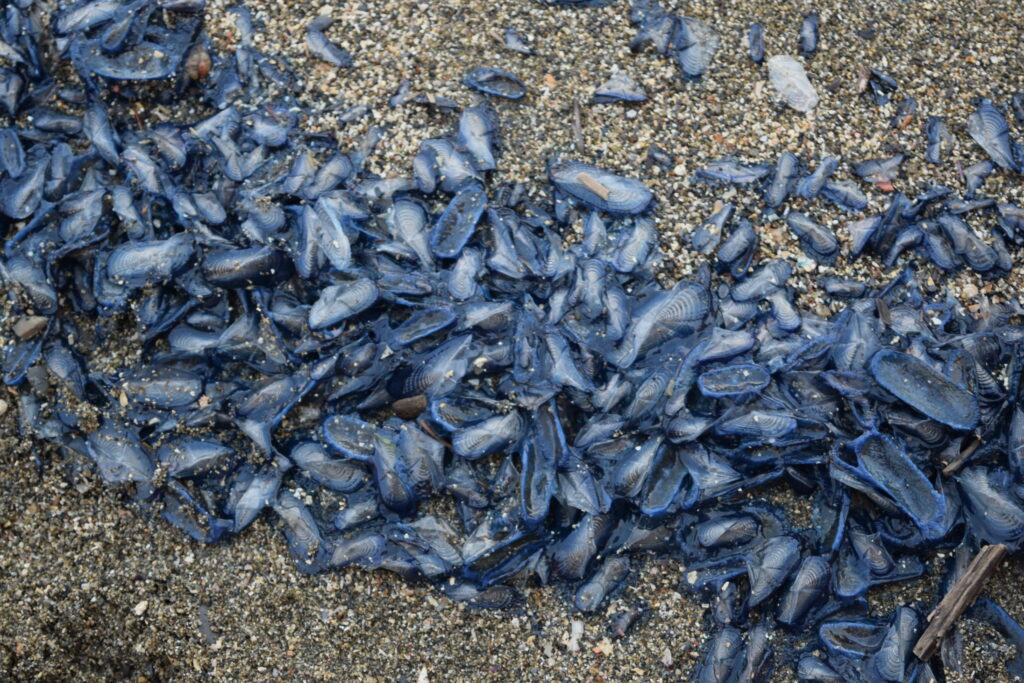 I spend a day cycling around the area, it was still pre-season so the beach was mostly empty. The italian coast is very rocky in many places, which is what I love about it. I decided to hike a bit but then wanted to try my new bike. This resulted in me carrying it over a rock outcrop to avoid a tunnel..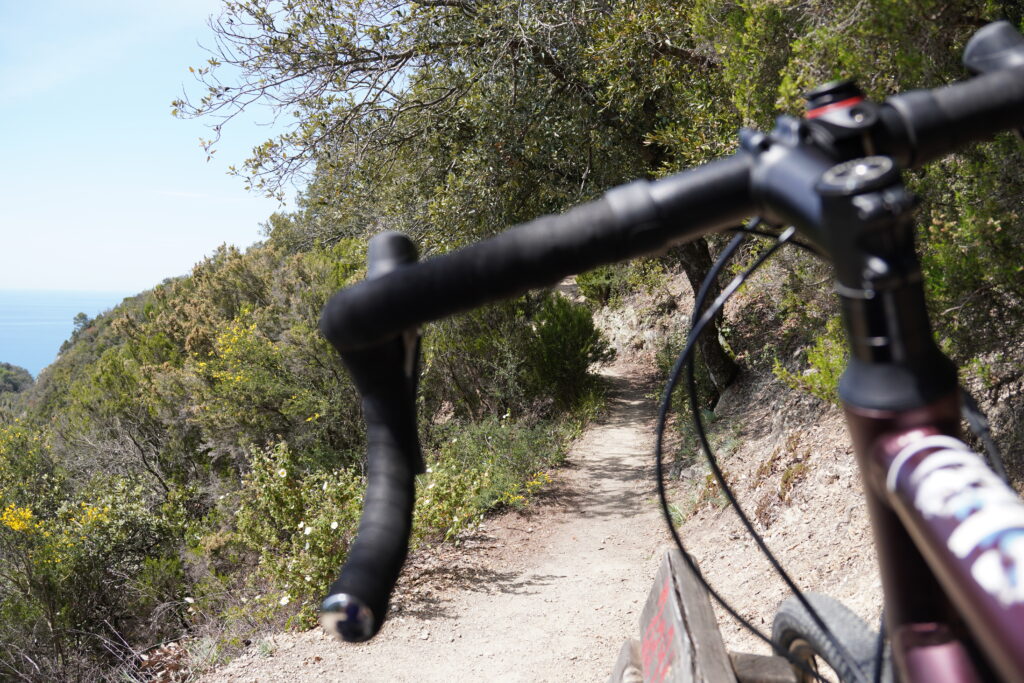 I was hoping to not travel alone but it turned out this way, and if you do then the trip gravitates more to enjoying architecture, food, landscapes and sports. This was my inhale moment because I just love the unpolished nature of Italy, fresh air, stunning vista's. I also realized my less active winter existence meant I should not walk a tight rope along steep cliffs before I got a bit fitter again 😉
The window got fixed, I payed the bill and moved on to the South. I decided to stay close to the coast, not sure the exact route I wanted to take. I skipped Cinque Terre and kept Florence for another time (still assuming I'd cross over to Greece). Talking to Peter however he told me the boat build did not move as fast as he hoped. He was worried there wasn't much to see, there wasn't a factory and he had to stay in Albania to save days on his visum.
Pisa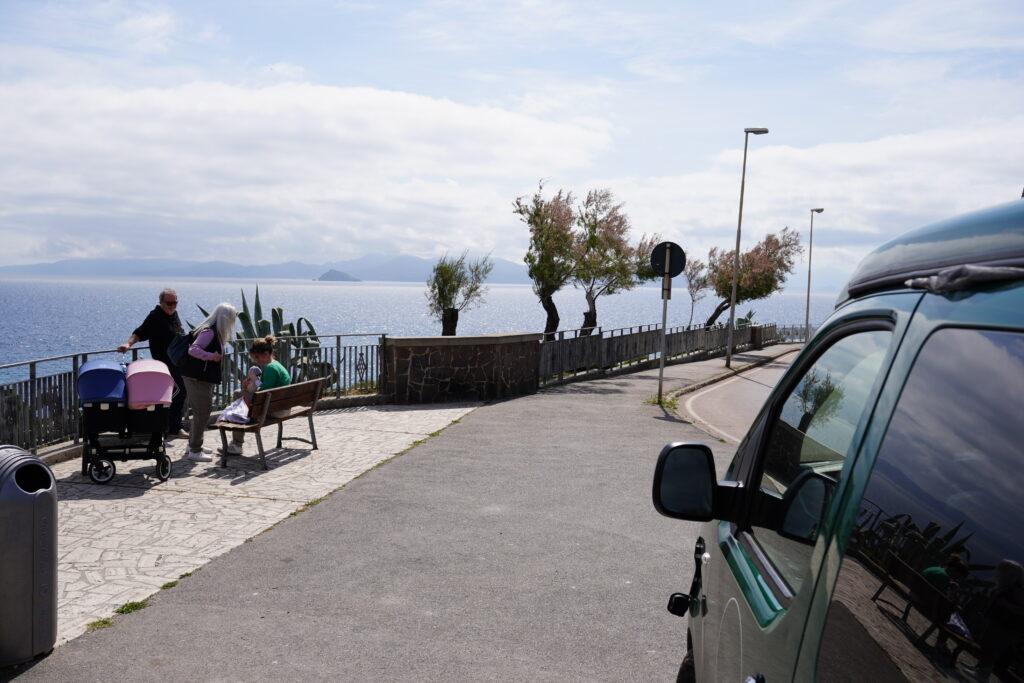 Pisa has a coastline which is quite low key. This part of the coast does not have a lot of rocky outcrops. The city itself is of course abuzz with tourists and a nightmare to park in. Near the beach there's a nature reserve with wild boar. Below a picture of the last time I stayed there (september 2022). They are being fed so not super wild.
The people where very happy to see me there, being one of the first tourists of the season. It seems Pisa could do a better job being a beach destination, but then again it would make people fly more.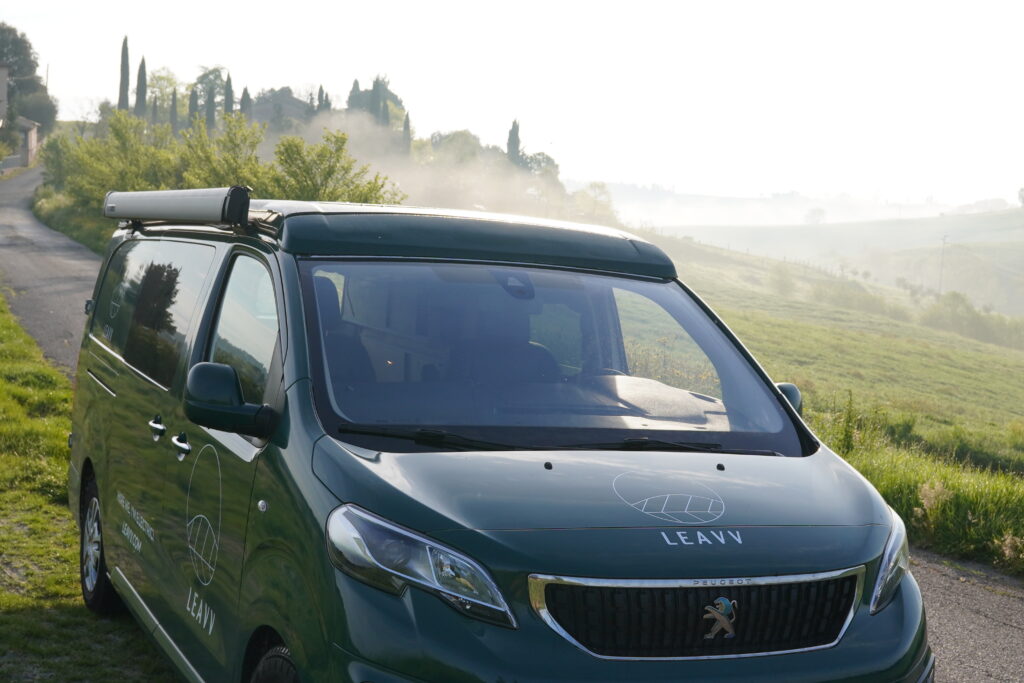 Next up was Sienna. Doing the driving and charging had become routine by now. I was trying to figure out how to work with my new Sony ZVE10 camera, which doesn't have a viewfinder and an LCD (so not very bright) screen to see what you're doing. The result is badly framed pictures.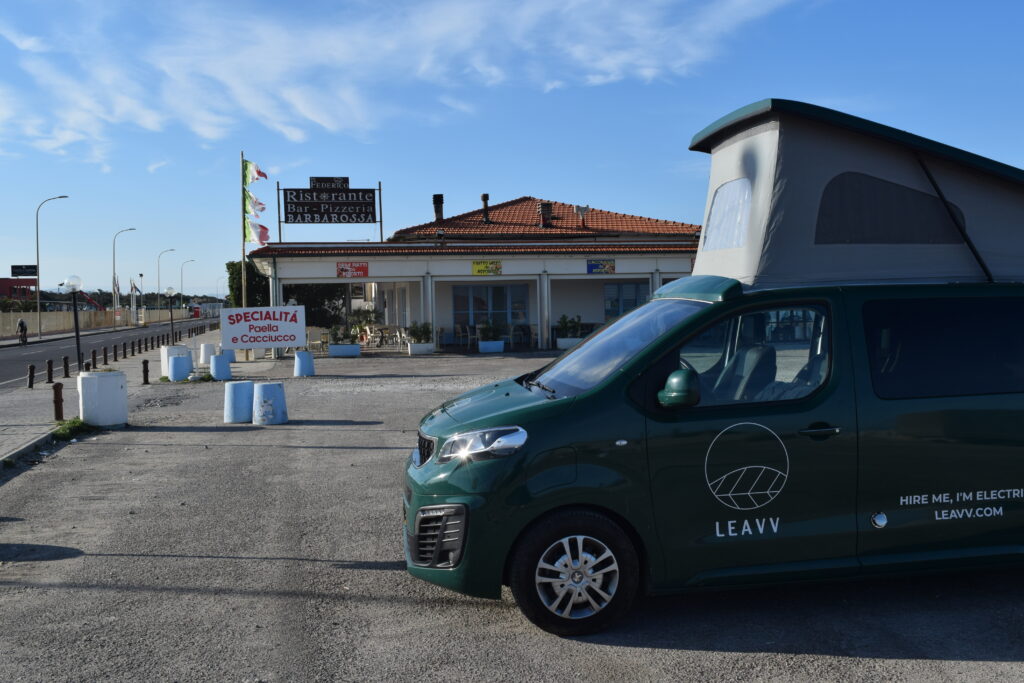 I did a couple of comparison shots with both my camera's The D3300 has an 18-55 F1.35-5.6 lens and the ZVE10 has a 18-50 F 2.8 lens. The camera world is one of infinite detail, while most of my use of it is point and shoot, don't think to much about it. It seems the ZVE10 did a slightly better job, keeping the colors more noticable but also lighter.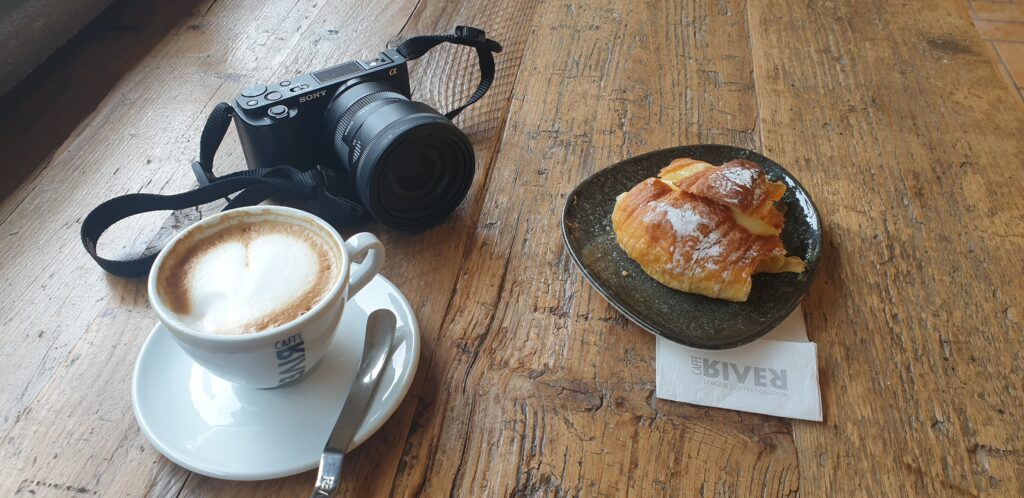 Camera detail is really not what I am interested in though, because if you don't watch out you will be obsessing over bokeh and dragging along a cartload of lenses. I really like the fact the Nikon lens can be compacted, and it seems the Sigma people took the hint so that lens is very light, albeit a bit boring.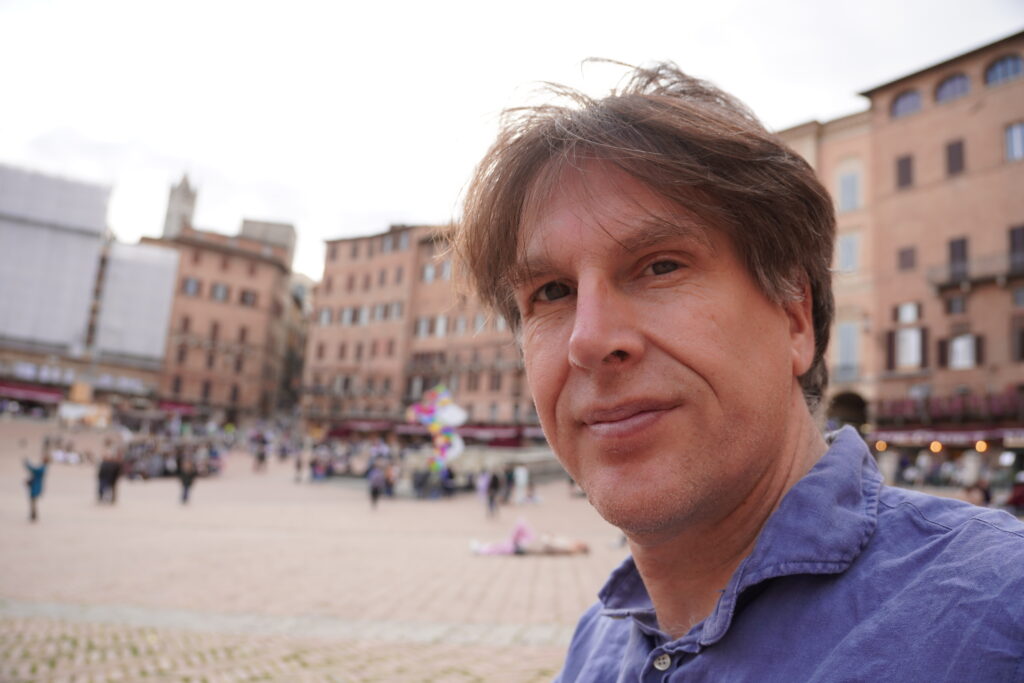 Here's another camera comparison.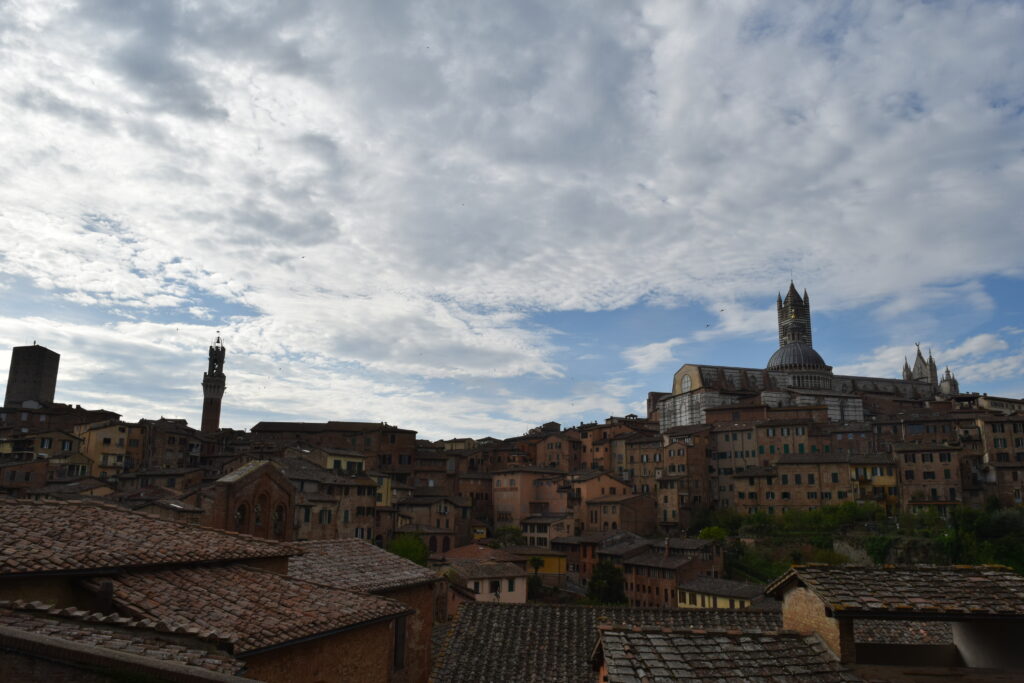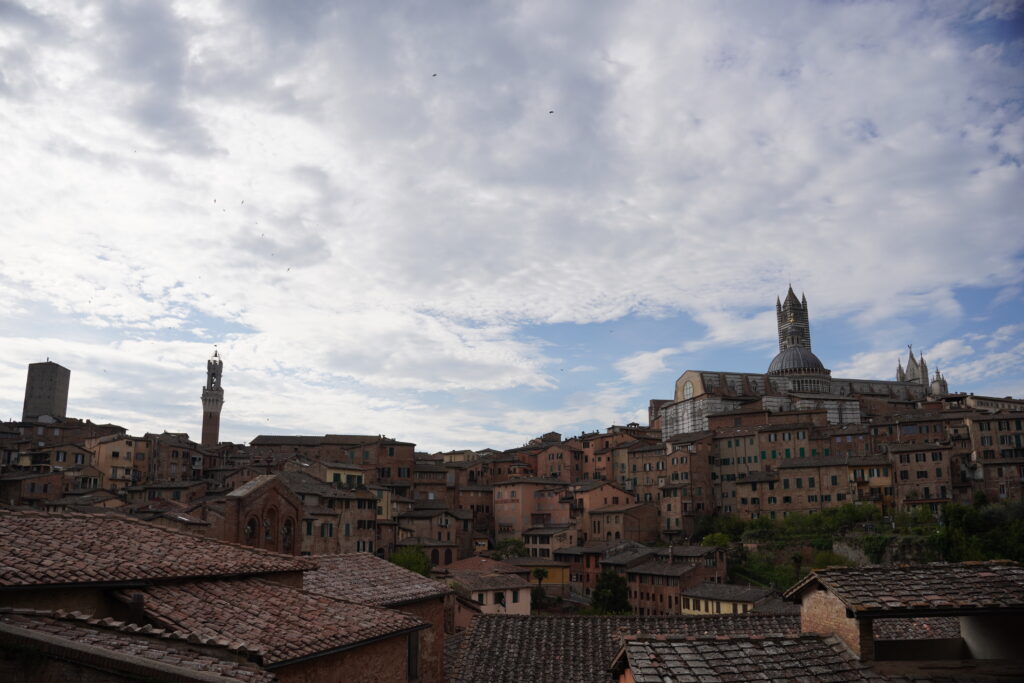 Orbetello
I had grown curious about the Tuscany coast, so I decided to check out the peninsula of/near Orbetello. I drove straight to it. It has a number of small harbours, some of which are actually used for fishing. I wanted to try the AC charging on the camper, and I found a parking spot with a charging point in Porto San Stefano. The small pilon had a screen and RFID scanner, all went well it seemed.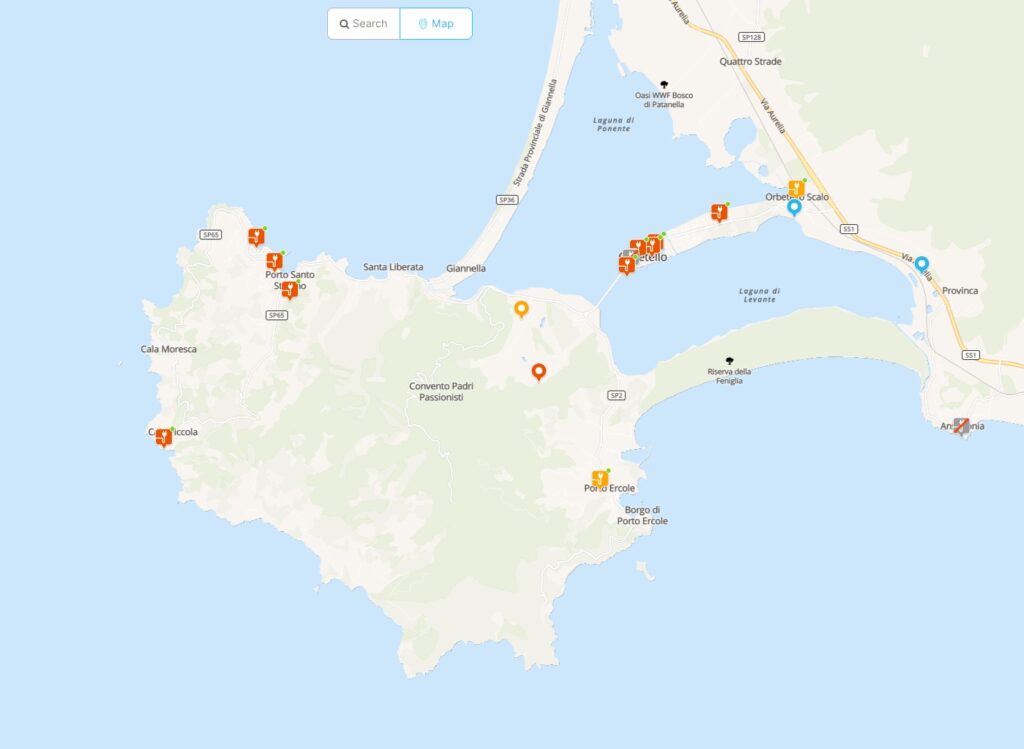 The routine is quite simple, you scan the pole, then you can put in your AC cable, which you can also plug into your EV. Then the pole and the EV exchange data, and if all is well the plugs lock in place and the vehicle starts charging.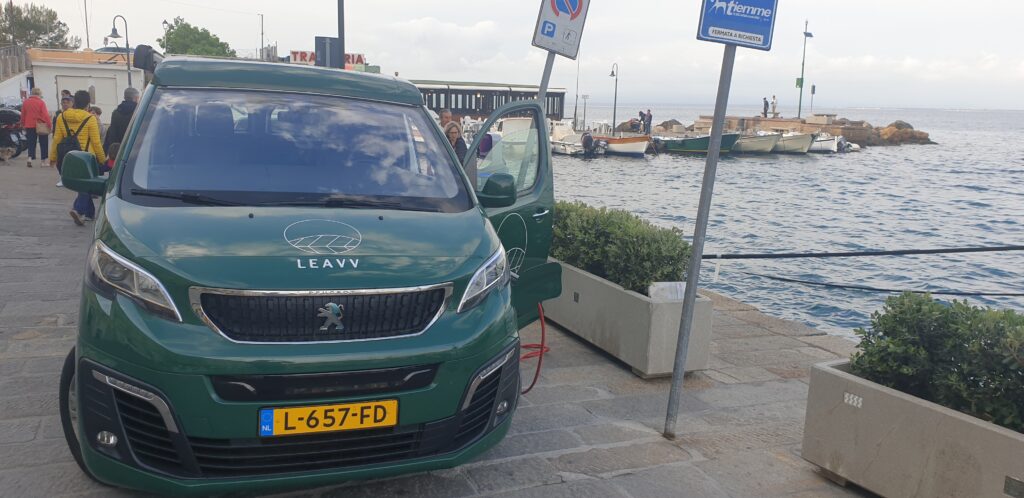 However, soon after it seemed this process had started I noticed the screen of the pole had switched off, and I could not bring it back to life with my RFID card. This must have been when I blew a fuse of the AC charging circuit of the camper that would cause trouble later. Before that I got a call from the owner of Leavv.com they got a notice from chargemap I had spend 300 Euro's (15.000 km worth) of charging at that charging point. I think I neutralized that claim, but I can't be fully sure.
There was nothing for me to do but to store the cables and drive to the nearest DC charger.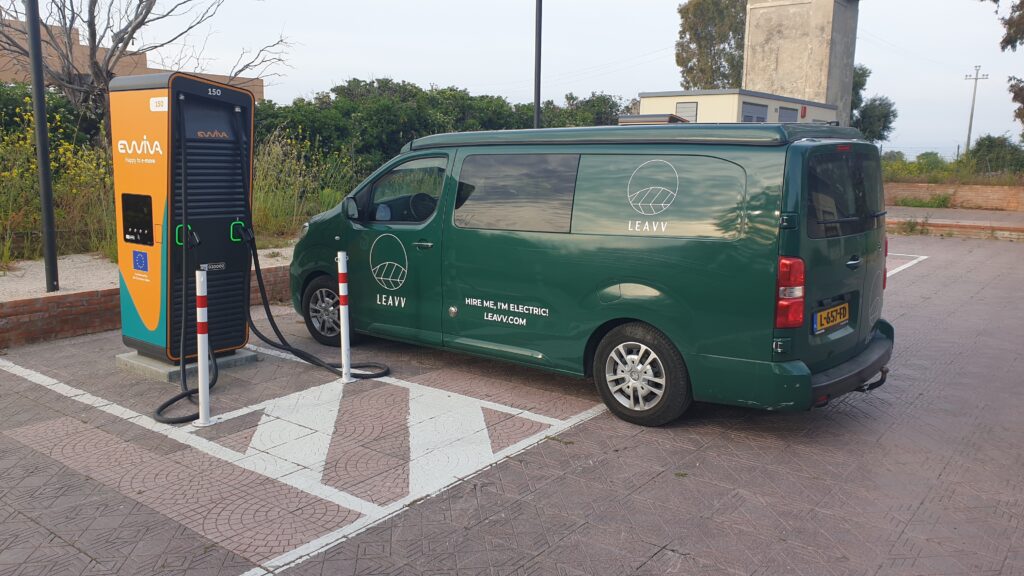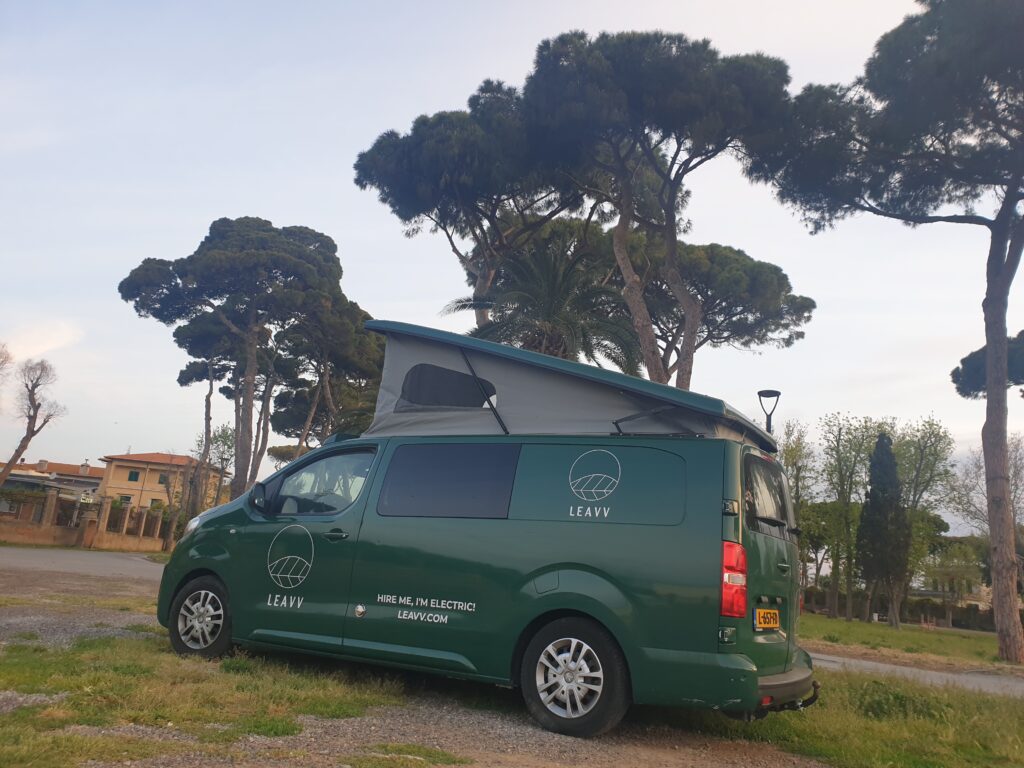 Driving further south. There are a lot of 'strata bianca' in the region, meaning 'white roads', made of calcium rock that look inviting to cycle along. So I looked for a photogenic place to park, so I could try that experience..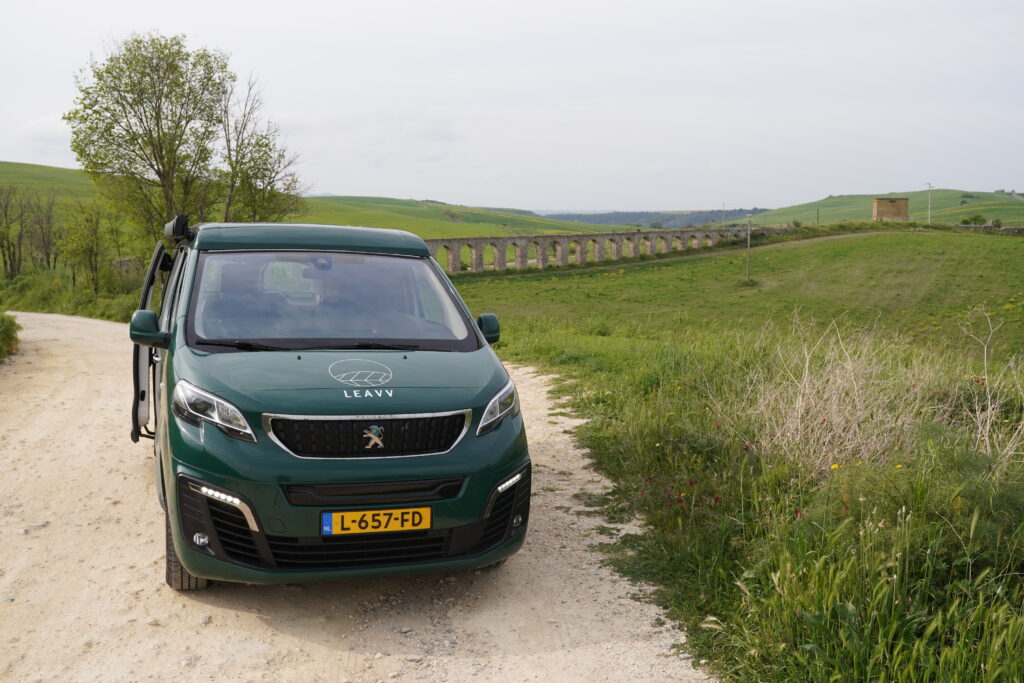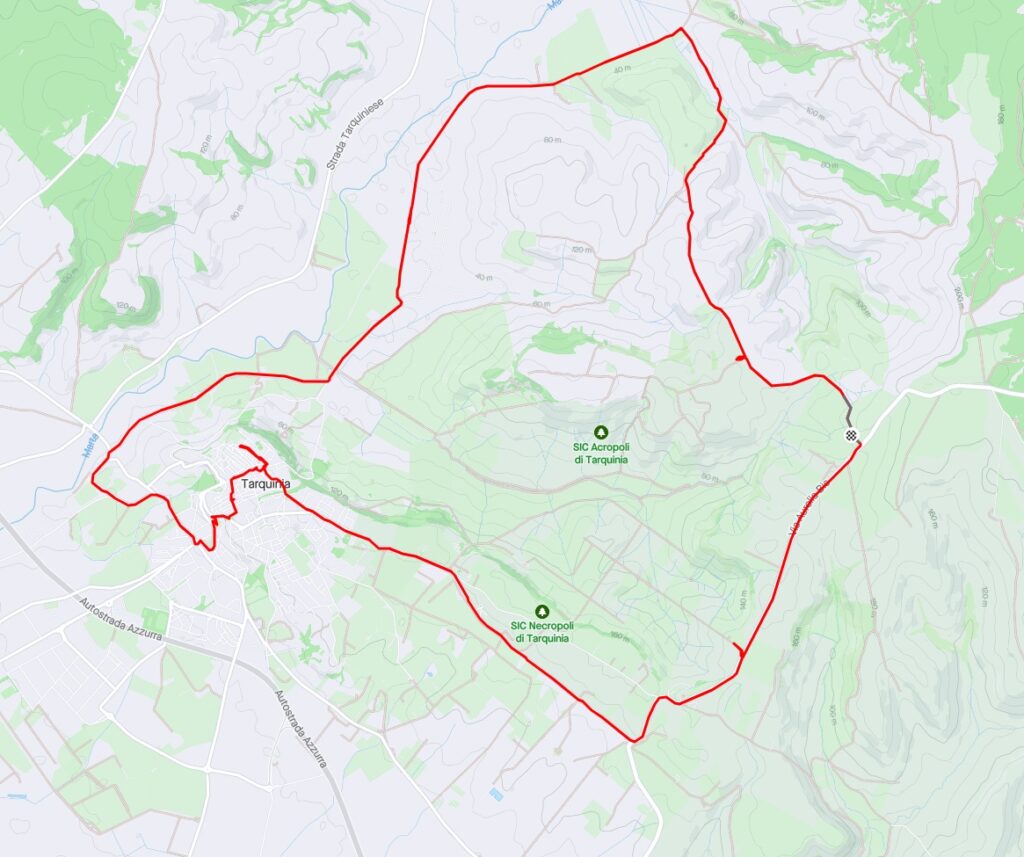 The Google maps app is interesting imho because it sucks quite a bit. Yet it doesn't fail to track you. From the advice it gives me however I do not get the sense it uses much of the data it gathers to actually improve navigation! So its clear to me what the priority of the app is.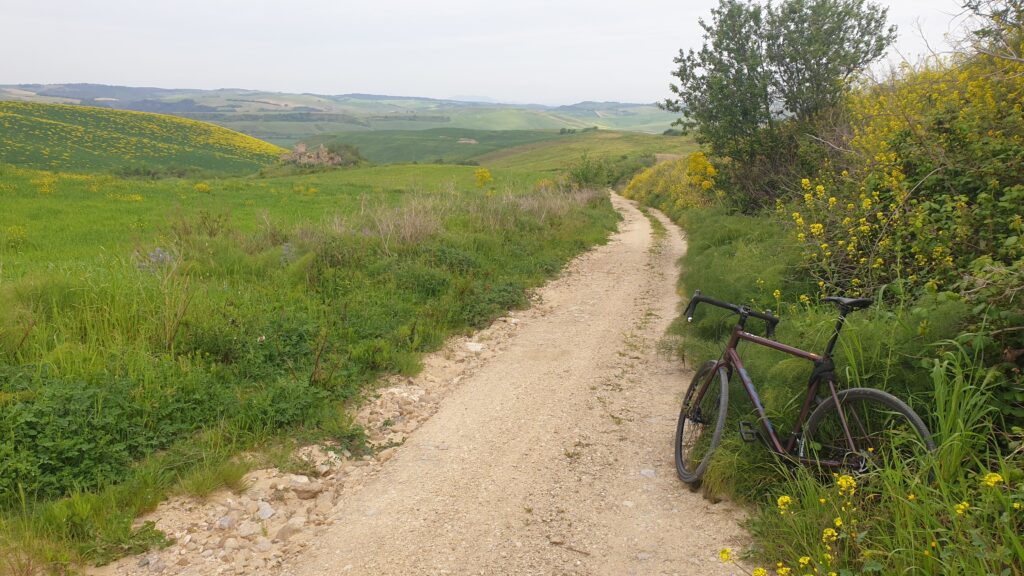 Cycling on the strata bianca you soon realize you may want front wheel suspension. I thought about a remark of someone that people of my age pick up cycling on mountain bikes, then break their wrists and give up. I came close. The landscape was a good compensation though. I figured I'd keep to asphalt for a while after this.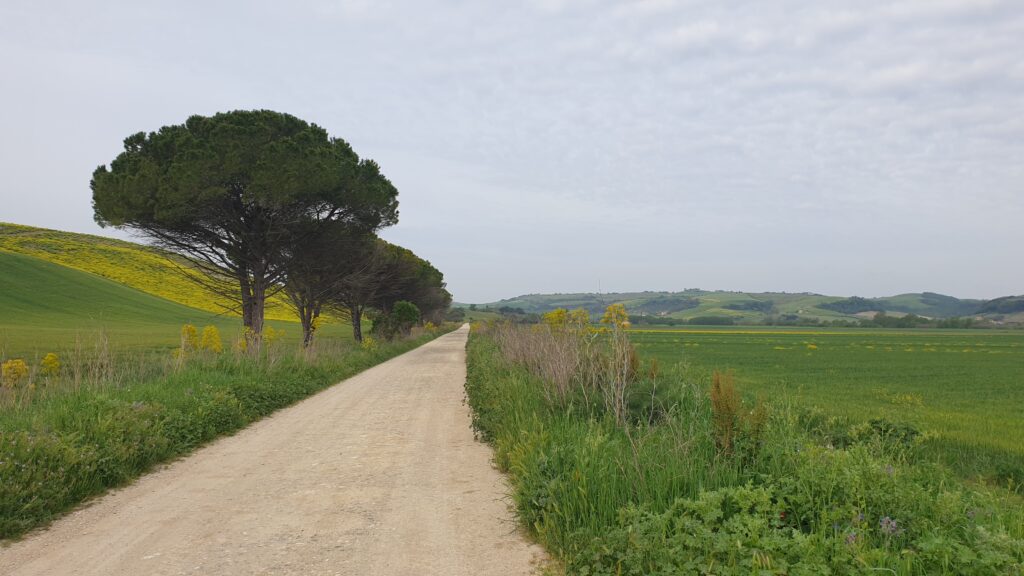 In full tourist mode, just looking at suggestions of what to visit, I noticed Calcata Vecchia, a walled city build on a rock in the middle of a nature reserve.
You could argue these places are impractical to live, but are they really? Just put some Starlink dishes up and you can populate it with the cream of whatever yuppies are called these days 😉 I loved the zombie appocalypse resliance of the place.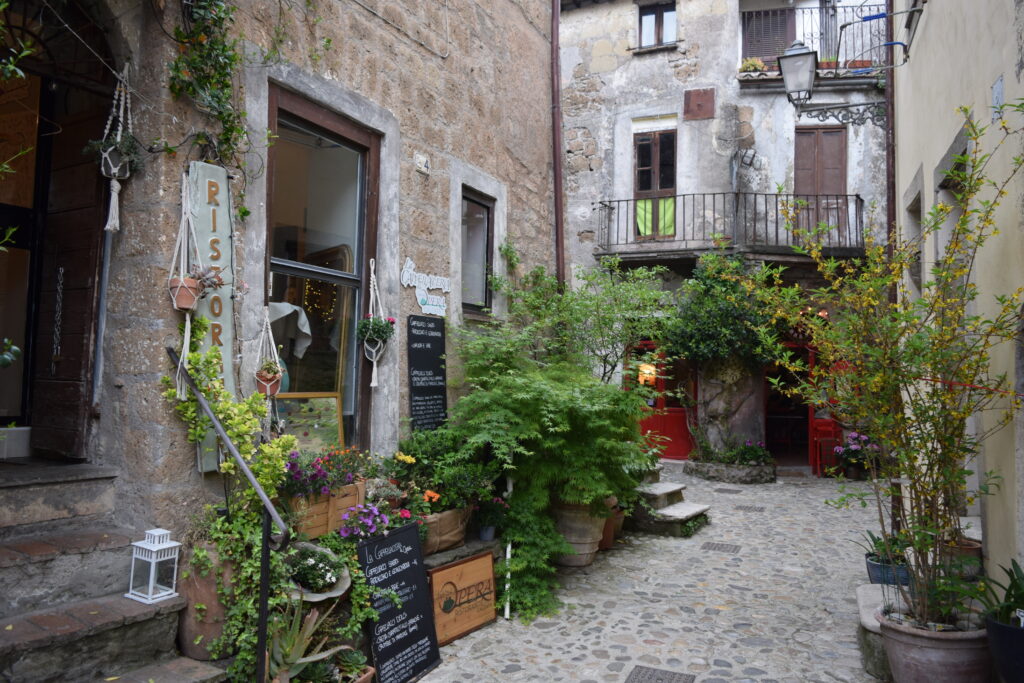 Next stop was Rome. Another amazing city to visit. I was a bit traumatized by Turin however, so I decided to park in a garage, which turned out to be a nightmare to get out of, but no images of that proces. It would have been a lot harder backing up two stories up spiral ramp in an ICE camper, which would had meant a lot of gear changing, a boiling transmission and having to do it in a cloud of diesel exhaust. I was very very happy I didn't get trapped (due to my own stupidity) in an ice camper.
I'm not a foody but I love to find out what people like to eat wherever I am. I look for places with low 'economic pressure' meaning not touristy, but also not neglected. I found one in Rome, basically what one would call a Traitteur, although it says Pizzeria on the outside. I accidentally order Tripe, which is made out of stomach, while trying to order an artichoke, that's how stupid I am 😉 But contrary to what is commonly assumed it taste great, with a consistency of pasta, quite enjoyable. I would not mind living close to this restaurant 😉