Hollan needs solar electricity. It has had a wealth of gas since the 50′s, but that resource is now a bone of contention, because the link between removing gas and earthquakes has become clear, and the Groningen, where major gas sources are, wants gas removal to slow down. At the same time a succesfull campaign is waged against shale gas, which is ever more often recognized as a standard way to ruin the health of land and people, reaping disappointing returns.
But where could one find land in the Netherlands, one of the most densely populated countries. How could one find space to generate solar energy (which is now being rolled out in the hundreds of megawatts around the globe) at a significant scale? Easy : On water.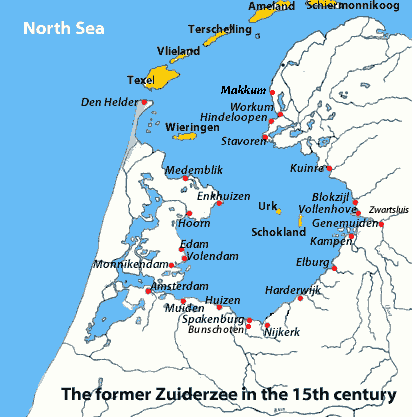 Holland has been fighting the water for centuries. In the last century the Zuiderzee, the central lake, has been cut off from the North Sea by the "Afsluitdijk", the Zuiderzee was salty, the IJsselmeer (IJssel lake) is sweet. In the picture below the two white areas are new land, the green zone to the North West of the bottom white area is the Markermeer, a lake apparently green with algae. It is separated from the IJsselmeer by another dam, in preparation of it's being pumped dry.
The Markermeer covers an area of 700 square kilometer. It's main function is to allow recreational sailing. It is not very deep, 5 meters max. Because there is no reason for sailing boats to move close to the dam there is plenty of space to place floating solar panels along it.
Floating solar panels are a mature technology. The reason for going this route are threefold :
No land needed
Panels shade the water, reducing evaporation
Panels cooled by the water have higher output.
Kyocera has a system that can support big solar installations on water, like it proves with the Nishihira Pond and Higashihira Pond in Kato City
Other systems are possible as well, as the Markermeer is only 5 meters deep, so poles of 12 meter deep in the clay underneath could be the basis of almost standard rows of panels. There are other floating solar systems, for example of the dutch company Van der Valk Solar.
When we consider the Kyocera system we can calculate that it allows about 108 Wp to be installed per m2 of water. This means that on 10 by 10 km water, one can install  10.801.880.798 Wp, more than 10 billion Wp. This amount of solar panel would generate 9181 MWh (9 GWh) per year. This is equivalent to about 16 500 MW powerplants